March 16, 2015
All In The Family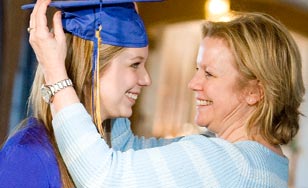 The Kero family chooses CSS again, and again, and again, and again, and…
Her parents met here. So did her aunt and uncle. Another uncle went here. And a couple of decades later, her older sister and brother followed suit.
In total, seven members of Jessica Kero's family chose to come to St. Scholastica. So when the time came for Jessica to make her own college decision in spring 2014, did she ever think about not becoming number eight?
"Not really, no."
And she hasn't looked back.
"Honestly, I love everything about the school — the buildings, the Sisters, and how the professors and the whole community want to make you better students and better people," she said.
Coming home
Jessica was not the first member of her family to feel this way.
"I was actually the one who started it all," said Mary (Klepfer) Kero '85, who ventured all the way from Texas to come to school here.
"I don't really know how to describe it, but I just felt at home here."
However, this feeling wasn't immediately shared by the next generation. Mary's eldest, Katie, initially avoided even considering CSS as a possibility. That is until she toured the campus and was drawn in by how her tour guide seemed to know everyone they passed.
Shortly after Katie started here, Mary returned to CSS herself, finding a job as a counselor in One Stop Student Services, where she has worked for the past six years — bringing the family even closer to the school.
"We took our prom pictures here. I worked in the day care a few years ago. I helped the Sisters garden a couple summers ago. I've worked out in the Burns Wellness Center for the last four years," Jessica said. "St. Scholastica's always kind of been here for us."
And she means that in more ways than one.
Support from all sides
In August 2011, the night before he was supposed to start his freshman season on the CSS cross-country team, Jessica's brother, Matt, died in his sleep. The cause of death is unknown.
His funeral was held on campus in the Mitchell Auditorium. The building was packed.
"We really felt that sense of community," Mary said. "Everyone was so good to us. They didn't even know Matt and they hardly knew us. It was just unbelievable."
Cross-country coach Steve Pfingsten, who would have coached Matt, made Mary the team mom. Even Dr. Larry Goodwin, president of St. Scholastica, checked in on her.
"How many presidents of a college know who you are and what you're going through and care enough to ask if you're getting everything you need?" Mary said. "I just knew I was in the right place when that happened."
The experience also helped Jessica find her place in the professional world.
"Right now I want to be a nurse practitioner with an emphasis in cardiology," Jessica said. "We don't know how my brother died, we just know his heart stopped. So that kind of motivates me to work in cardiology and figure stuff out."
And the Keros might not be done yet. One of Jessica's cousins is considering coming here. But even if he doesn't, one thing is clear.
"We just love this place," Mary said.