May 13, 2021
All in the family, a triple graduation for the Hubers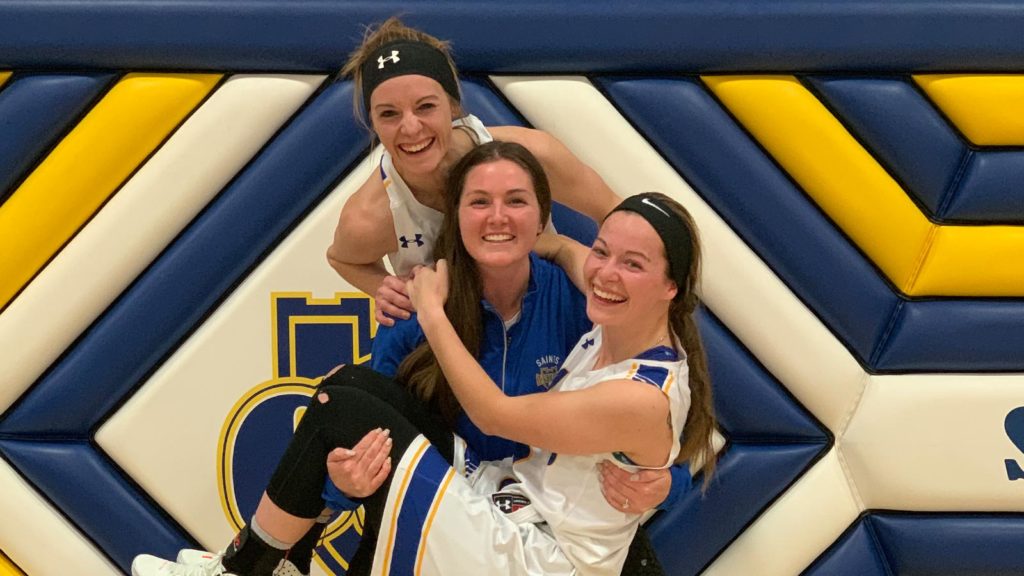 The Huber sisters are a tight-knit trio.
When Alison, the youngest, was recruited to play basketball at St. Scholastica, her older sisters Nicole and Kaela were not far behind. Alison transferred from Hibbing Community College in the fall of 2018, and Nicole and Kaela joined the Saints' community in January 2019.
As the only three siblings in the family with just three years between them, the Huber sisters of Ashland, WI, have always been close.
"We used to set records in high school for having the most family members on a basketball court," said Alison.
Three sisters will participate in Grad Walk as a family
On Saturday, May 15, the trio will set another record as the first group of siblings to graduate together during the College's spring commencement ceremony.
Kaela will earn her Master of Science in Special Education, Nicole will earn her Bachelor of Arts in Business Management with a Healthcare Administration concentration and Alison will earn her Bachelor of Arts in Educational Studies.
Traditionally, candidates for bachelor's and master's degrees process across the stage separately, but this year's modified Grad Walk presented the perfect opportunity for the sisters to participate as a "pod," with each of their names called out consecutively as their parents, grandparents, partners and children watch.
"We knew it was something we always wanted to do together," said Nicole. One request out to Michele Runberg, administrative assistant to Student Affairs, and the sisters' wish was granted.
It will be an especially meaningful moment for their mom.
"Our aunt Dolly, our mom's sister, was a teacher in the cities," Kaela shared. "She passed away, but this was something she had always wanted to see."
After years of living together (Nicole and Alison), playing basketball together (Alison and Kaela) and studying for their respective classes as a trio, it is a fitting way to close out their time at the College.
This program gives you the opportunity to study many different areas in computer science, preparing you for a variety of jobs in the technology industry.