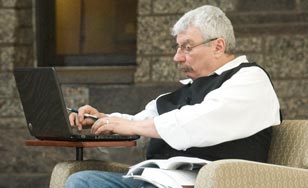 Sean Trainor reinvigorates his life at St. Scholastica
How old are you?
It's not a question that you typically ask people, especially when the salt outnumbers the pepper in their hair.
But when Sean Trainor is asked, he answers proudly, "65."
And why shouldn't he? After all, that number has earned him a heavily discounted education at The College of St. Scholastica…and much more than that.
"I've had the chance to be with sharp minds, to be with young people and professors who are not afraid to push and to accept challenges," he said. "Even though I'm older, everyone is there for me and will do anything to help me succeed," Trainor said. "It's all enriched my life so much. What a dream."
The right time
Five years ago, this dream couldn't have seemed further from reality.
"I had a friend who asked me then what I would be doing when I was 65," Trainor said. "I told him that I'd probably be collecting Social Security. No way I thought I'd be going to school."
He had tried to attend other colleges over the years, but nothing clicked. So he resigned himself to work away his years in a series of dead-end jobs that he didn't want to do.
"I wasn't dead physically yet, but I had died emotionally," Trainor said.
Then he met Liz (Remick) Bieter, '93, and the two formed a relationship that reinvigorated his life.
"I don't think I've ever appreciated another human being like I appreciate her," Trainor said. "She came at the right time in my life."
So did CSS.
Two years into their relationship, Trainor and Bieter moved from Colorado to her hometown of Duluth and, on Liz's recommendation, he decided to look into attending classes at her alma mater, St. Scholastica.
And when he experienced the school's all-embracing atmosphere and learned that he and everyone else over the age of 65 could attend at a steep discount, it was a done deal.
Coming of age
But his journey was only beginning.
When he was 45, Trainor was diagnosed with major depression, a condition that had gone undiagnosed since he was 12 years old.
"I destroyed three families because of depression," Trainor said. "I was probably the worst example of a male in a marriage and a family that you could imagine."
Now he's using that experience to help others going through the same thing. At CSS, Trainor self-designed a major in social and cultural advocacy that he hopes will one day lead him to serve as a counselor to the perpetrators of domestic violence.
Trainor's enthusiasm for learning isn't likely to end anytime soon. After he graduates in 2018, he plans to return to school for his master's and PhD
"Liz said to me one day, 'I'm so glad you've shown up for your life,' and I am too," Trainor said. "It's amazing to be alive and CSS is an amazing place to experience it."