December 24, 2013
A Valuable Education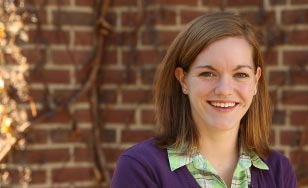 Kenzie Meagher learns religion while practicing it.
As almost every graduate can attest, you don't remember everything you learn in college. But as Kenzie Meagher proves, some things stick with you.
"The Catholic Benedictine values that I learned at CSS are definitely something that are still with me today," Meagher said.
And it's no wonder. From lunch in the cafeteria to her theology classes in Tower Hall, these values — community, hospitality, respect, stewardship and love of learning — are infused into every aspect of the St. Scholastica experience.
For Meagher, this was most apparent in St. Scholastica's supportive environment, which allowed her to feel welcome wherever she was on campus.
"I always enjoyed the time that I spent at the Monastery getting to know the Sisters there," Meagher said.
Doubling up
When the time came to choose her major, Meagher was unsure. So she turned to the people in Career Services.
In consultation with them, Meagher realized her passion for religious studies, and with their advice and encouragement, she became more involved in on-campus religious clubs and organizations such as Campus Ministry and Peer Ministry.
"I felt that CSS was a community that fostered my own Catholic identity as well as challenged me to grow in my faith through dialogue with others."
And while CSS provided an ideal environment to cultivate this interest, it also provided an ideal environment for balance — allowing her to pursue other non-scholastic activities.
Now, after graduating with a degree in Theology and Religious Studies in 2013, she is continuing on the same path she began at CSS — pursuing her master's of divinity at St. John's University in Collegeville, Minn., with the goal of eventually working as a chaplain or in a pastoral care setting.
But no matter what the future holds, one thing remains certain.
"CSS offered me the opportunity to learn in a unique environment that focuses on core values and integrates the Catholic Benedictine heritage and tradition into all aspects of learning," she said. "I really appreciated, and still do appreciate, that."