May 25, 2016
A strong voice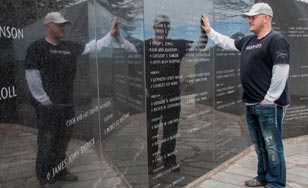 Junior Chad Graden chose to become an advocate for fellow military veterans
It's been two years since Chad Graden completed his time in the military, but in some ways, he's just as committed now as he was back then. At The College of St. Scholastica, he's found a place where he can pursue his desired profession while shedding light on the needs in the veteran community.
Sorting it out
When Graden received a medical discharge in 2014, he wanted to continue his academic journey as quickly as possible. He met with a staff member at the Duluth Vet Center who helped him narrow school choices and get financial benefits in order.
Graden said he planned on going to a different college, but his contact recommended CSS. Not long after his campus tour, he came across an article that framed St. Scholastica as the most veteran-friendly school in the Upper Midwest. After that, he was sold. And CSS didn't disappoint.
"It could have been really tough and awkward to show up to classes with a bunch of 18-year-olds because I'm an older guy, but all the professors and students made me feel like I was one of the group," Graden said. "Plus, Jessica Johnston [CSS Veteran Resource Center] really helped keep me on track when I started to fall through the cracks a little bit. She kept pushing me and helped smooth things out."
During a particularly rocky time in his life — his first year at the college — the community of Saints came through.
"I had a really rough first year of school; my step-mother passed away from cancer, I had a friend in the military who passed and a student at my son's school passed away. On top of that, I was stressed about school," Graden said. "I remember Student Senate sent me a card and a plant when I was going through all of this. CSS feels a little bit like the military, in that everyone here is close, like family."
A willing advocate
Graden expects to graduate in 2018 with a degree in education. He said that switching majors slowed him down a bit, but now he's found something he's passionate about — seeing high school kids realize their potential.
Plus, teaching runs in the family.
"It seems like half of my family members are teachers," he said. "I have a strong sense of how important education is; aunts, uncles, my mom and even my grandparents helped me see that."
He's settled into his niche as a columnist, too. He writes for the student newspaper — The Cable — about issues veteran students face, like reintegration, healthcare and fighting stereotypes.
Though he didn't expect much in the way of response, Graden is getting a good deal of feedback from fellow students and professors; his experience is touching a nerve.
"I use some personal stories, but my goal is to tell the stories of the veteran community at CSS," he said. "I've had professors stop me in the hall and tell me they appreciate what I'm doing, and that my voice is being heard."
But there's something else he wants in the future — the chance to help veterans tap into college opportunities while they're on active duty, just like he did.
"I know a lot of people in the military who wanted to continue their education while they served, but it's tricky," Graden said. "It was easier for me because my sergeant was big into education, but it can be really hard to understand the benefits that are available. I want to help make it easier for them."