June 17, 2014
A Sound Return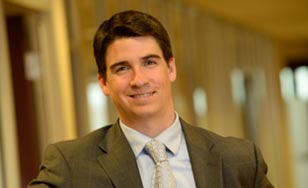 Fred Lewis makes the most of his CSS investment
Fred Lewis wears a lot of hats. Father. Husband. Vice Chairman of the Board of Directors for the North Shore Bank of Commerce. Vice President of North Shore Financial Corporation (the bank's holding company). But this past May, he got to take one off – student.
After four years of studying, Lewis received his Master of Business Administration (MBA) with a concentration in corporate finance from St. Scholastica.
But his path here wasn't a straight one. After receiving his bachelor's degree in 2006, Lewis moved to Arizona for a job at Wells Fargo. A few years later, he returned to Duluth to join the family business – North Shore Bank of Commerce.
"My family and I thought that pursuing a master's degree in business was another important step in gaining the knowledge I needed to excel as a bank executive at an early age," Lewis said.
They were right.
Fitting his needs
As a father to two children under the age of two and husband to a wife who works as a physician assistant at Essentia Health, flexibility was key in choosing an MBA program. But he didn't want an education that tethered him to his computer.
"I knew enough about myself academically to know that learning 100 percent online would not be a good experience for me, so I am very glad I chose CSS," Lewis said. "I was able to take nearly all my classes in the classroom, and developed some great relationships with students and teachers because of that."
These interactions even extended to the St. Cloud and St. Paul campuses – opening up a slew of networking opportunities among students and faculty there.
"The diversity of the teaching staff at CSS is really unique," Lewis said. "They bring a lot of real life practical knowledge to the classroom."
Now Lewis is incorporating this into his daily work at the bank – and taking off even more hats in the process.
"My MBA has given me the knowledge I need to develop strategies for growth at the bank and has helped me relate better to our customers," Lewis said. "I'm able to take the banker hat off from time to time and discuss our customers' businesses with them from their perspective more easily."