July 1, 2020
A Saint's voice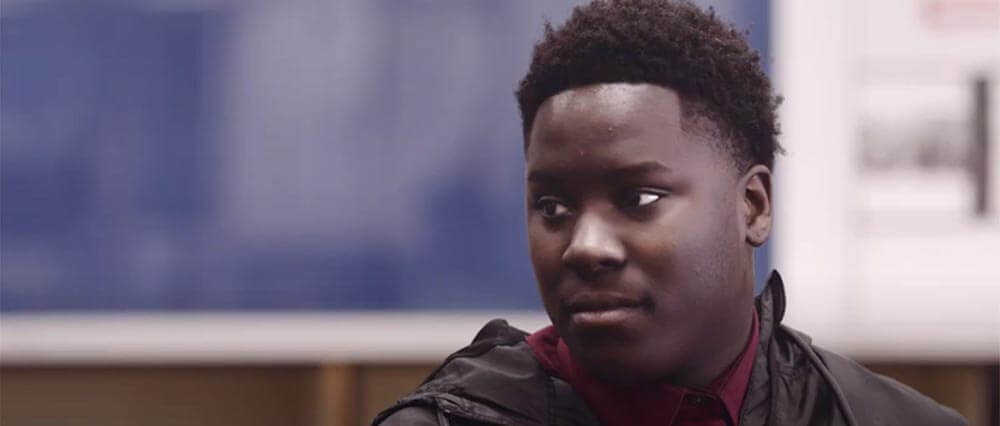 Israel Glenn impacts national political debate
Poverty robbed Israel Glenn '23 of the kind of childhood that kids deserve.
Food insecurity, intermittent homelessness and emotional distress from these realities weighed heavily. But Glenn doesn't look at his roots as a source of shame or doubt — he sees this part of his story as fuel.
"I never looked at my past as a negative," Glenn said. "It has made me who I am today."
Who is he today? For one, he's an advocate for ending child hunger. At the age of 18, because of his leadership skills, commitment to his community and voice for justice, he earned the full-tuition Sister Timothy Kirby Social Justice Scholarship to St. Scholastica and started partnering with Children's Defense Fund (CDF) to bring attention to the needs of vulnerable kids everywhere. This inspired work took him on a journey that put his passion for equity on the minds and in the hearts of some of the most powerful people in the world.
A burning question
Opportunity came calling during the summer of 2019, when Glenn learned that the Washington D.C. branch of the CDF wanted to give him a greater platform for advocacy.
"We started talking about ideas to bring the message forward, and creating a petition to have this issue front-and-center at the Democratic national debate came up," said Glenn, a Peace and Justice Studies major. "If the question is accepted, it forces some influential people to talk about this when everyone is listening."
Glenn started the petition through CDF in August 2019. By September, after he began attending St. Scholastica, he'd already amassed 60,000 signatures. A debate came and went without the question being posed. Still, momentum built as local officials took note and the New York Times made mention of the effort in a Sept. 11, 2019 article entitled, "Our Children Deserve Better."
"People started responding — it took off on social media and awareness grew," Glenn said. "We used my Children's Defense Fund video to help attract attention on Twitter and did whatever we could to make this happen."
The signatures swelled to 80,000. Then on Feb. 7, it happened.
"As the February debate came closer, it seemed like the momentum was slowing down and it started to feel like if they didn't ask this question, my voice didn't matter," Glenn said. "But that night, I started getting these emails from people saying 'They're asking your question!' It was mind-blowing."
Next steps
Glenn said that after graduating from St. Scholastica, he wants to pursue a law degree and affect legislation that creates opportunities for social justice.
"It was an important moment for me, but CSS is like a foot in the door," Glenn said. "One day I'm going to be one of the people that helps to make the laws that help kids who struggled like I did."
Dean of Students Megan Perry-Spears believes Glenn is exactly the kind of person who can make positive change in the world.
"Israel has brought his engaging personality and leadership to CSS Senate, the Center for Just Living and his classrooms," Perry-Spears said. "We are so glad he chose CSS and is a part of our community. He embodies 'Bold and Benedictine!'"
Glenn has participated in classes with Sarah Stewart, multicultural student success coordinator at St. Scholastica. Stewart has noted his tendency toward inclusivity.
"Israel has a gift for encouraging others to reflect on their own experiences and to participate," Stewart said. "I am incredibly proud of him, of the work he's done, and what he brings to our community."
Glenn believes he's in the right place and surrounded by the right people to launch his future of making real change happen.
"The community here has a fantastic vibe," Glenn said. "I love being here and I can't wait to get back this fall."
Children's Defense Fund's video profile of Israel