July 28, 2015
A Saint Sets Sail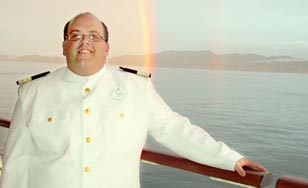 St. Scholastica business, project management programs set course for alum's future
It's probably safe to say that there aren't too many master's degree students taking online classes in the middle of the ocean.
But it's a daily reality for Todd Foster, 37, who is living out his dream job as a manager of youth activities with Disney Cruise Line while taking online coursework toward St. Scholastica's master's in project management.
"There's other online colleges, but St. Scholastica is so friendly to work with," Foster said. "It's really economically priced compared to other colleges out there. I love the fact that St. Scholastica has the history of a traditional college as well. You get a top quality education."
The St. Cloud native spent years doing seasonal work for summer camps, but what he really wanted was a full-time camp director job. His first step toward that goal was to enroll in the bachelor's in business administration program at St. Scholastica's St. Cloud and online extended campuses.
"I thought it would be a really good fit for me, since I was still working and supporting my family," Foster said. "I really liked the accelerated formula as well."
It paid off even faster than expected.
"Even before I was done, I found a job as a year-round, full time camp director."
A year later, he was hired by Disney Cruise Ships. Stationed on the Disney Fantasy, he works with about 72 counselors who handle activities for up to 1,000 kids on any given day.
He's tasked with planning for seven- to 17-day voyages, doing everything from coordinating staffing to ordering supplies. After all, it's no small feat to make sure the ship doesn't run out of popsicles somewhere on the Mediterranean Sea.
To become even more effective in his role, Foster decided to pursue a master's in project management at St. Scholastica.
"It's fantastic because it's purely online, so I can do it from the middle of the ocean," he said. He appreciates being able to complete coursework around his busy schedule with help from responsive professors. "The faculty is great. Whenever I have a question I can send an email."
He's already beginning to put the principles he's learning into action.
"It's about managing risks. I've been a leader for years, but this is a new tool that I've never really thought about."
He hopes to stay on with Disney, and eventually use his new graduate degree to reach greater heights within the company.
With his experience and a master's in project management from St. Scholastica, the sky's the limit.