May 25, 2016
A risk worth taking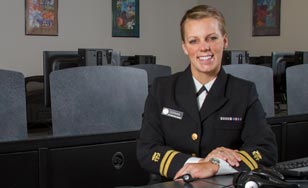 HIM Graduate Amanda Deering found opportunity in an unexpected place
With a desire to make significant impact on the healthcare community, Amanda Deering had a problem. The emotional toll of patient-facing care proved too taxing for Deering. She needed a new path, and that's when she found the Health Information Management program (HIM) at St. Scholastica.
"I had some negative experiences and was turned off to nursing, but I was thereafter encouraged by a CSS alum to give the HIM program a try," Deering said. "She described it as still being a part of healthcare; more from behind the scenes."
Strong support
Being a compassionate person with a desire to help, Deering jumped on the opportunity, quickly gaining traction in HIM — a program that began at St. Scholastica in 1935 and continues to offer rigorous preparation today.
Deering found the faculty — many of whom wrote the curriculum used in colleges and universities all over the nation — friendly and accessible.
"The HIM faculty not only encouraged me to be the best I could be, but they put faith in me," she said. "I truly believe they helped shape me to become the professional I am today."
Deering said she looked up to Assistant Professors, HIM Madonna LeBlanc and Vicki Zeman (no longer at CSS) during her time as an undergraduate student.
"As cliché as it may sound, to me, their word was gold," said Deering. "Not only did I receive the classroom guidance I needed, I received excellent advice for resources to aid with career opportunities and personal matters."
Unexpected avenue
After graduating with her degree and passing her RHIA credentialing on the first try, Deering found work in an unlikely place: the Federal Correctional Institution in Sandstone, Minn.
"I have to laugh when I'm asked about working for the BOP (Bureau of Prisons)," she said. "During the 'explorations' component of our internship curriculum senior year at CSS, I specifically stated that I would never work in a prison setting."
Despite her initial hesitation, Deering remarked on how glad she was to have taken the risk. One single decision opened up a world of opportunity in the United States Public Health Service (USPHS), one of the seven uniformed services. USPHS is a non-combat service that deploys to public health services and natural/man-made disasters.
"Once I started with the BOP, I noticed several of the Health Services staff wore USPHS uniforms," she said. "I had honestly never heard of the USPHS until stepping foot into the prison. I quickly learned that based upon my bachelor's degree in HIM, I qualified to apply as a Health Services Officer with the USPHS."
After a lengthy 1-1/2 year commissioning process, Deering became a commissioned officer in January 2012, with the rank of lieutenant.
Back home
Deering cites her time at CSS as a primary reason for her career success, so her return to St. Scholastica in pursuit of an advanced degree is no surprise — she expects to graduate with her MS in Health Informatics in 2017.
She admitted it was a little nerve-wracking to enroll in school again, considering her full-time role and myriad other life responsibilities, but it was a challenge Deering was willing to accept.
"Not only am I pursuing my master's to enhance my knowledge and expand my career opportunities, but also to increase my potential for promotion within the USPHS," she said. "It truly has been a stimulating, engaging and rewarding educational opportunity."
According to Deering, the HIIM department houses programs that are a wonderful fit for prospective students interested in an emerging industry.
"It has been an eye-opening experience to recognize the career potential within the diverse and growing field of health informatics," she said. "I highly recommend HIIM at CSS based on my experiences as an undergrad and graduate student."