September 26, 2019
A beneficial convergence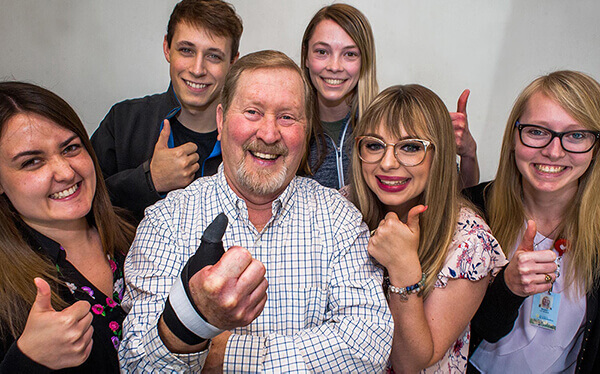 Intercollegiate collaboration combines technology with healthcare
When innovation and technology converge with St. Scholastica's patient-centered approach to healthcare, there's no limit to what can be achieved. For a group of occupational therapy students, a cross-college, interdisciplinary collaboration over the last year led to firsthand lessons on the vast potential in 3-D printing.
Occupational therapy (OT) client Jerry King severed his right thumb in a carpentry accident in May 2018. The injury also caused severe damage and numbness to his index finger; and once King completed an OT program through his local provider, he sought out additional therapy through the maurices Community Clinic at St. Scholastica. A group of OT students started a course of supervised intervention to help him regain more dexterity and awareness for his dominant hand.
"They do a great job here. I was very impressed," King said, explaining that the OT students genuinely listen to and learn from their patients. "They want to know how you feel, they want to know a lot more in depth about you, what you do, and how you do it."
Dr. Christine McConnell, assistant professor of Occupational Therapy, encouraged the OT students to approach the University of Minnesota Duluth Engineering department with an ambitious idea: 3-D print a customized prosthetic thumb for King. UMD Industrial Engineering major Joe Kastner worked on the technical and design side of the project, while the OT student team members shared their expertise in anatomy, biomechanics, materials, and function.
The students met with King weekly over the course of two semesters, printing out several prototype thumbs in a process of trial and error. By the end of the Spring 2019 semester, the team had created a prosthetic thumb with an optimal shape and fit, along with a customized neoprene orthotic to secure the thumb and optimize stability. Though this was originally a one-semester project, the students took it on as an independent study to see it through.
"It's been a really rewarding and challenging experience," said OT student Alayna McCawley. "I feel like we've learned a lot about what we can do as a profession."
OT student Megan Ocel has always been interested in hand therapy, so the project affirmed her career plans. She said the collaborative nature of the project was rewarding.
"Everyone has their own strength and weakness. Where you're weak in one area, someone else can fill the gap," Ocel said.
OT student Megan Bergland said it was gratifying to witness how much she and her classmates had grown throughout the project.
"I think just being able to problem-solve through a situation and use our clinical reasoning that we've developed during these last two years has been really rewarding," Bergland said.
The interdisciplinary collaboration grew to include St. Scholastica's School of Business and Technology. Dr. Tom Buck, lecturer in Computer Information Systems, helped the OT program acquire its own 3-D printer for future projects; Rachael Platt, a computer science student with a self-designed concentration in 3-D printing, jumped at the opportunity to get involved. She worked closely with Kastner during the final printing stages of the thumb project and is helping McConnell and Buck finalize a 3-D printing course for OT students starting this fall.
"I'm really happy to be here," Platt said. "I think this is what 3-D printing is meant for."
Jerry King passed away unexpectedly in May 2019 as the result of a cardiac event. His widow, physical therapy administrative assistant, Kathy King, said she is glad to see the prosthetic thumb project gain attention because her husband considered it part of his legacy.
"Jerry's needs and willingness to be part of the learning process fostered a special opportunity for all these students," McConnell said.