Trustees
Jennifer Alaspa '00 (MBA '15)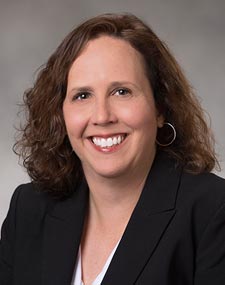 Jennifer Alaspa is currently the Administrative Director for Laboratory Services at St. Luke's Hospital in Duluth, MN, a role that she has held since 2017. Prior to her current role, she served in various capacities in the laboratory at St. Luke's hospital from laboratory generalist to operations manager. Medical laboratory science combines her passions for life science and helping people. Her main areas of interest include effective utilization of healthcare resources, change management and workforce development. She has recently accepted a position as an adjunct faculty at Lake Superior College to help introduce future healthcare professionals to laboratory techniques.
She received a BA in Clinical Laboratory Science from the College in 2000, and a Masters of Management and an MBA from the College in 2015.
Deborah A. Amberg, Chair

Deborah (Deb) A. Amberg is the Chief Legal Officer for SitelogIQ, Inc. SitelogIQ makes buildings better through energy efficiency improvements for K-12 schools, hospitals, multifamily housing, shopping centers, warehouses and other commercial spaces across the country. She is the former Senior Vice President and Chief Strategy Officer for Regulated Operations ALLETE, Inc., and was the President of Superior Water Light and Power Company, and previously Senior Vice President, General Counsel, and Secretary. Deb's legal experience has focused in construction, corporate, environmental, energy, employment, and governance.
She received her BA in economics from the University of Minnesota and is a cum laude graduate of the University of Minnesota Law School.Deb has completed the Advanced Management Program at the Booth School at the University of Chicago and the Certificate of Health Care Compliance Program at Mitchell Hamline Law School.
Larry Anderson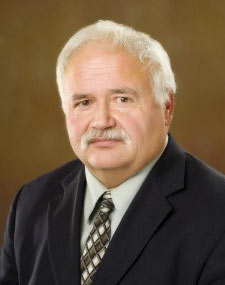 Larry Anderson is a University of Wisconsin-Superior graduate a BS in Counseling and an MSE in Counseling. Larry served the Minnesota State Colleges and Universities system for many years. He retired as President at Fond du Lac Tribal and Community College in 2018 after serving in that role for 10 years. Prior to that, from 1996-2008 he served as the Director of TRIO Student Support Services, Dean of Student Affairs and then Vice President for Administration and Student Services. In 1993 was hired at the College of St. Scholastica as the first Director of Student Support Services. Larry went on to direct Upward Bound here at the College. He also was the Talent Search Coordinator for the Minnesota Chippewa Tribe and the Director of American Indian Programs at the Arrowhead Economic Opportunities Agency. Larry served as a Board Member of the Independent School District #2142 including four years as Board Chair. In addition, for fourteen years he coached his high-school football team.
Larry is an enrolled member of the Fond Du Lac Band of Lake Superior Chippewa.
Steve Burgess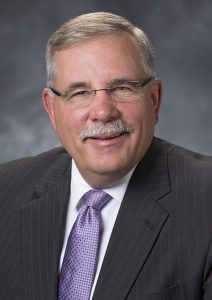 Steven (Steve) Burgess is President and CEO of National Bank of Commerce in Superior, WI. NBC also has locations in Duluth, MN, Esko, MN, Hermantown, MN, Hibbing, MN, Poplar, WI, Solon Springs, WI. Steve has over 39 years of banking experience, focusing primarily on commercial and consumer lending in addition to agricultural lending. He spent six years with M&I Central Bank and Trust in Marshfield, WI, followed by 11 years with State Bank Financial in LaCrosse, WI. Steve serves as the chairman of the APEX board, and is the former chair of the Wisconsin Business Development Board, on which he served for 13 years as a voting member or board member.
Steve is a member of the Duluth Rotary Club 25, the Greater Downtown Council, the LSBE Advisory Board, the Kitchi Gammi Club, and the Northland Country Club. Steve received a BS degree in Agricultural Education from the University of Wisconsin-Platteville. He and his wife Kathy have five children.
Gabriella Caldecott '13
Ms. Gabriella Caldecott is a 2013 graduate of The College of St. Scholastica where she majored in marketing and management and got a minor in Spanish. She obtained a certificate through the Masters of Organizational Leadership program at Saint Catherine University in 2019. She has worked for Wells Fargo for eight years where she has held multiple positions. She currently works as a Family Office Client Service Consultant within Wealth Investment Management. She recently finished serving on The College of St. Scholastica's Alumni Board of Directors for six years. She serves on the Joyce Preschool's Board of Directors which is a Spanish Immersion preschool in Minneapolis as well as serving on Highland Groveland Recreation Association's Board of Directors in Saint Paul. In Gabriella's spare time she enjoys volunteering for various causes (particularly youth soccer and homelessness), traveling, attending concerts, and going on walks. Gabriella lives in White Bear Lake with her husband Richard.
Ed Crawford '78

Ed Crawford is currently an adjunct instructor at the University of Minnesota Duluth. He retired in June 2015 as the Assistant Superintendent with the Duluth Public Schools. He was instrumental in establishing Online Learning and Elementary World Language Immersion. He was principal at Duluth's Denfeld High school for over six years, where he led a dropout prevention, retention, and graduation initiative. He was also a Social Worker, Guidance Counselor, Assistant Principal and Co-Principal at East High School.
Ed is a 1978 graduate of the College, earning a bachelor of arts degree in Psychology. He earned a master of science in education from the University of Wisconsin – Superior and a sixth-year certificate in educational administration from St. Cloud State University. He received the College's Sister Ann Edward Scanlon Award in 2005, and he was named the 2009 Northeast Division Principal of the Year. He was inducted into the Duluth East High School Hall of Fame in 2019. Ed currently serves on the Duluth Area Family YMCA Heritage Foundation Board of Trustees, The Northland Foundation Emeritus Trustee Group, the Duluth Sisters Cities International Board of Directors and the Harbor Point Credit Union Board of Directors.
Craig Fellman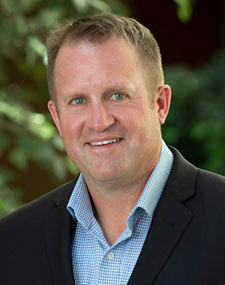 Craig Fellman is President and CEO of the Jamar Company and its subsidiaries. He also serves as a Vice President at APi Group working in Segment Leadership providing oversight to several other companies. Craig is a 1995 graduate of the U.S. Military Academy at West Point and a former U.S. Army Aviation Officer. Craig began working with APi Group at LeJeune Steel in 2002, as a structural steel estimator, then transitioned to Jamar at the end of 2003. His work with Jamar started in the service department before he went on to hold positions as a project manager, department manager, general manager, and vice president. He has served as Jamar's President and CEO since 2014. Craig earned his certificate in Lean Construction from Lake Superior College in 2008 and LEED Accreditation in 2009. Craig is active in many community organizations and enjoys outdoor activities. He serves as President on the Duluth Airport Authority Board of Directors and on the Board of Directors for APEX. He previously served a term on the Duluth Chamber of Commerce Board and is active in Duluth Rotary. Craig and his wife Jen live in Duluth and have three children.
David Herman, MD

Dr. David Herman is chief executive officer of Essentia Health in Duluth, MN. A native of International Falls, MN, David received his medical degree from Mayo Medical School in Rochester, MN, and completed his residency in ophthalmology at Mayo School of Graduate Medical Education. He has a fellowship in ocular immunology and uveitis from the National Eye Institute, National Institutes of Health in Bethesda, MD. He also has a master of science degree in medical management from the University of Texas at Dallas. He is interested in continuing to practice ophthalmology while serving as CEO.
With more than 20 years in healthcare leadership, David served as the president and chief executive officer of Vidant Health, an integrated healthcare system in eastern North Carolina. Before that, David served on the Mayo Clinic staff from 1988 to 2011, where he was a professor of ophthalmology. He also was chairman of the Clinical Practice Committee at Mayo Clinic, a member of the Rochester Executive Board, a member of the board of directors for Mayo Clinic Health System and a member of the Mayo Clinic Management Team. He serves on the board of directors for the American Board of Ophthalmology and is a member of the (international) board of trustees for the Ronald McDonald House Charities.
Heidi Johnson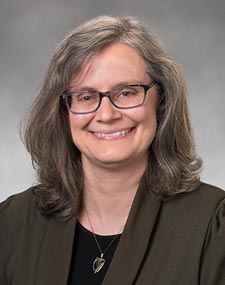 Heidi Johnson, Assistant Professor in the Library, is the faculty trustee. She obtained her BA in Secondary Education, English, German, and Speech Communications and Theatre Arts from Concordia College in Moorhead, MN. She was a Fulbright Scholar to Germany and then taught English and German at Mora High School. She has Master's degrees in Library and Information Science from Dominican University and Information Technology Leadership from The College of St. Scholastica. In 2004, Heidi was hired by the College where she serves as an Instruction and Reference Librarian as well as the College Archivist.
Sister Gretchen Johnston, OSB '04

Sister Gretchen Johnston, OSB, is a Sister of St. Scholastica Monastery. She is currently organist and music director at Zion Lutheran Church, assistant organist and cantor at St. Michael's Catholic Church, and a preschool music teacher at St. Michael's Lakeside Early Learning. She is also studying liturgy through Saint John's University in Collegeville, MN.
She graduated from The College of St. Scholastica with a Bachelor's degree in Music and Music Education in 2004, having first obtained an Associate degree in music at Mesabi Range Community and Technical College in Virginia, MN, in 2000. In 2006 she received a Master's degree in Music from the University of Missouri-Columbia. Sister Gretchen is a member of the Music Teachers National Association, Minnesota Music Teachers Association, Duluth Music Teachers Association, and Arrowhead Music Teachers Association.
Stephen Kent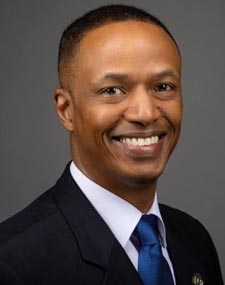 As Vice President for Finance and Operations, Stephen Kent is responsible for Metro State's operational portfolio of over $85M and supervises a team of over 35 employees in the departments of Financial Management, Facilities Management, Building Services, Safety and Security, Parking, Bookstore and Risk Management.
In his previous experience, Kent was Vice President of Finance and Administration at Mitchell Hamline School of Law for one year prior to arriving to Metro State and the Vice President of Finance and Facilities at North Hennepin Community College in Brooklyn Park for nearly four years after serving 25 years in the U.S. Army, culminating at the rank of Colonel. He served ten years in military intelligence and 15 years in finance. He has served as the Chief Financial Officer for commands in Kuwait, Korea and three tours at the Pentagon. He has managed budgets as large as $26.3B, and while in the Republic of Korea, managed $103M in government labor costs for 3,400+ employees. Kent has been awarded many military awards and medals, including six meritorious service medals, German-proficiency badge (gold), airborne and air-assault badges.
Kent has mentored kids in elementary schools, coached youth basketball and baseball, and still officiates college and high school basketball. He has participated in mentoring young men with Kappa Alpha Psi Fraternity, where he is a life member, and has served in youth ministry within his church.
Mark Lambert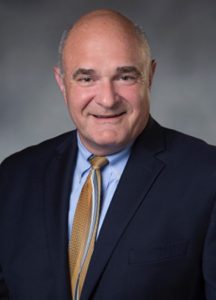 Mark Lambert, through his company Summit Management, has developed over 1,100 multifamily and student apartments throughout Minnesota and the Duluth area since 1993, many of which are home to students who attend The College of St. Scholastica and other nearby colleges. He is nearing completion of his latest development, BlueStone Commons, a Duluth campus-edge development with approximately 30,000 square feet of new retail development and approximately 435 new modern loft apartments. It is adjacent to the recently constructed St. Scholastica Health Science Center at BlueStone.
Mark lives in Stillwater Township, MN, with his wife Irene and three teenage daughters. He graduated in Business Administration from St. John's University in 1985, and earned a J.D. from William Mitchell in 1990. He went to work as a real estate attorney for Leonard Street and Deinard (now Stinson Leonard) in Minneapolis. He moved to St. Paul to start his own firm in 1992, focusing on real estate law. In 2005, he relocated the law firm and growing development company to Stillwater, where he offices and practices today. He is a member of Stillwater Rotary, a current Board member and past President of the Minnesota Manufactured Housing Association, past President of the Hill Murray Father's Club and a Hill Murray Foundation Board member.
Fred Lewis '14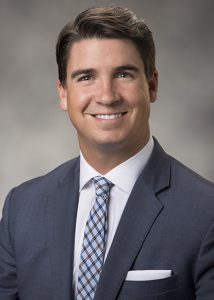 Fred Lewis is the fourth generation of his family to own and operate North Shore Financial Corporation and its subsidiaries (Duluth, MN). Fred is both humbled and honored to have the opportunity to lead his family business in its 107th year of operation. Fred is currently President of North Shore Financial Corporation and Executive Vice Chairman of North Shore Bank of Commerce. Fred also serves on the board of directors of North Shore Bank of Commerce and North Shore Financial Corporation as Vice Chairman.
Fred received an undergraduate degree in Political Science from Gustavus Adolphus College ('06) in St. Peter, MN, and an MBA with a concentration in corporate finance from The College of St. Scholastica ('14) in Duluth, MN. Fred also graduated from the ABA Stonier Graduate School of Banking held at the University of Pennsylvania in June 2017. Fred and his wife, Rebecca, live in Duluth with their four children.
Sister Danile Lynch, OSB '69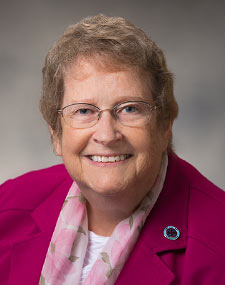 Sister Danile Lynch, OSB is a member and serves as the Treasurer of the St. Scholastica Monastery. Prior to moving back to Duluth, she was the Chief Operating Officer of the St. Luke Institute, an independent, international Catholic education and treatment center dedicated to health life and ministry for priests, deacons, and religious located in Silver Spring, MD. Sister Danile has an M.S. degree from the University of St. Francis and she is a 1969 graduate of the College with a B.A. in Medical Records. Her interests include jigsaw puzzles, reading and traveling.
Dr. Barbara McDonald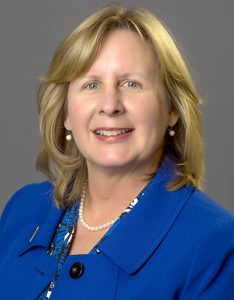 Dr. Barbara McDonald is president of The College of St. Scholastica. She came to St. Scholastica from North Hennepin Community College (NHCC) in Brooklyn Park, MN, where she had served as president since 2015. Her career in higher education includes extensive experience in teaching, scholarship, administration, and international education.
She earned a Doctor of Education (Ed.D) from the University of Minnesota-Minneapolis in 2002; a Master of Arts in Teaching English as a Foreign Language from American University in Cairo, Egypt, in 1983, and a Bachelor of Arts in English from the University of Colorado-Boulder in 1980.
Marianne Mesich Allen '77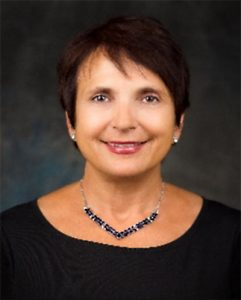 Marianne Allen is the former Vice President of Operations at St. Anthony Media and contributing editor of a revolutionary new business manual: The Innovativity Toolkit: The Ultimate Paradigm for Managing Innovation and Optimizing Creativity. Prior to this, Marianne worked at several health care consulting, software, media, and publishing companies including Ingenix (now Optum) as the Senior Vice President of Operations; Med Learn (now Panacea Healthcare) as an Operational Leader. As a leader in corporate operational strategic activities, Marianne has extensive experience in customer service, back-end operations, training programs, operational excellence, and employee satisfaction. Under Marianne's leadership, these health care information companies produced profitable business-to-business products, executed their strategic goals, improved operational efficiencies, and established market dominance.
Currently, Marianne is a Mentor/Coach to many top-talent women in all industries and inspires them to achieve professional and personal excellence. In addition, Marianne is a mentor for college and high school students and provides services for families in need within the Fairfax, VA area. Marianne volunteers for several organizations in St. Paul and Duluth, MN and the Washington D.C. area. Her volunteer work in Minnesota includes Menttium, the University of St. Thomas, and The College of St. Scholastica. Her volunteer work in the Washington D.C area includes Britepaths and the Kennedy Center. At St. Scholastica, Marianne served as past President of the Alumni Association and a Board Member on the Board of Trustees. Marianne graduated from The College of St. Scholastica with a Bachelor of Arts in Health Information Management and with an MBA from the University of St. Thomas.
Sister Pauline Micke, OSB '63
Sister Pauline Micke, OSB is a member of St. Scholastica Monastery. She has a Masters in Theology from St. John's University in Collegeville, MN and a BA in History with a minor in English from The College of St. Scholastica. Sister Pauline has been a Spiritual Director since 2008, and is a member of Spiritual Director's International. For nine years she was a counselor for Addictions and Recovery Treatment Groups at Lake Superior Family Services from 1999-2008. She taught in the Religious Studies Department at the College of St. Scholastica for seven years and was Mission Director for Benedictine Health System in North and South Dakota in the late 1980's. Sister Pauline has been on a number of Boards for Hospitals and Long Term Care; Women's Transitional Housing; and the Benedictine Finance Board. She has experience leading retreats for individuals, groups, clergy, campus ministry as well as Parish and Diocesan Staff. Since 2018 she has served as Co-Director of the Benedictine Oblate Community at the St. Scholastica Monastery.
Emma Mischke '25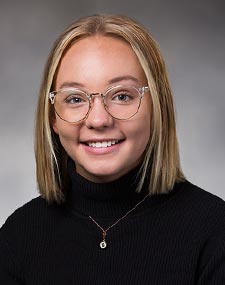 Sister Beverly Raway, O.S.B., is Prioress of St. Scholastica Monastery. She holds a doctoral degree in nursing from The Catholic University of America and a Bachelor of Arts degree in Biology and Nursing from The College of St. Scholastica. Sister Beverly taught biology at Cathedral High School (now Marshall School) in Duluth for 11 years. She was a nurse educator for 22 years at The College of St. Scholastica before being elected as Prioress in June 2015. During her tenure at the College, Sister Beverly initiated the travel abroad experience trip to Tanzania which includes service with the Benedictine Sisters of St. Agnes. Sister Beverly serves on the Board of Trustees of The College of St. Scholastica, Benedictine, Essentia Health, Essentia Health East and St. Mary's Medical Center-Duluth/St. Mary's Hospital — Superior, WI.
Concetta Renda '08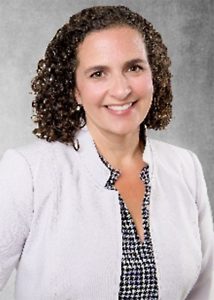 Concetta (Connie) Renda is a 2008 graduate of The College of St. Scholastica with a MA in Health Information and Informatics Management. She earned her MS in Psychology, Statistics from San Diego State University in 1996 and a BS in Psychology from Santa Clara University in 1993. Connie is Founder and CEO of Renown ROI Services, Inc. in San Diego, CA (May 2017 to present) and Associate Professor and Program Director at Mesa College in San Diego (August 2010 to present). She was CEO of Integrity Health Information Services (2005-2013) and COO of BACTES Imaging Solutions (1996-2005).
As an online student at the College, Connie attended the summer HIM cohort in Duluth. She is a Registered Health Information Administrator (RHIA) and a Certified Health Data Analyst (CHDA). Connie lives in San Diego with her three teenage children.
Sue Ross

Sue Ross is Chief Human Resources and Communication Officer at maurices in Duluth. She joined the organization in March 1990 and assumed her current role in 2002. Within this role, Sue considers her most important responsibility as leading and evolving the company's culture and helping maurices maintain its place as a "preferred place to work." She serves the company's 12,000 associates by leading all human resource functions including talent acquisition, organizational development, talent and performance management, organizational effectiveness, compensation, benefits and diversity/inclusion.
Sue also has experience with the Ascena Retail Group, where she led Human Resources, talent centers of excellence and corporate affairs. Prior to joining maurices, she worked for the University of Minnesota creating student recruitment strategies and holding various roles in HR. She received her Bachelor's degree in Journalism from the University of South Dakota. Sue lives in Duluth with her husband and three children, is actively involved in many aspects of the community, and serves on several boards.
Sister Donna Schroeder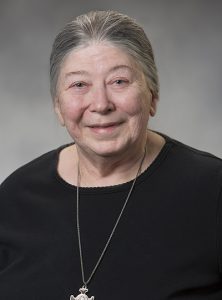 Sister Donna Schroeder graduated from The College of St. Scholastica in 1961 with a BA degree in Biology. In 1981, she received a PhD from the University of North Carolina, Chapel Hill, in the Curriculum in Ecology. In 2013, she was granted emerita status after 44 years as a faculty member in the Biology Department. For 20 of those years she was Department Chair.
She is currently the Director of Sisters in First Profession. In 2008 she received a certificate in Monastic Studies from St. John's School of Theology in Collegeville, MN. Sister Donna has served on the Boards of several healthcare institutions within Essentia and in the Benedictine Health System. She has also served on the Alumni Board of The College of St. Scholastica and does some volunteer work for the Alumni Department. When she is not engaged in various responsibilities for her monastic community, she enjoys reading, especially in the areas of religion, science and history.
Douglas (Doug) Schur '81

Douglas (Doug) Schur is the Vice President and Deputy General Counsel for Health Net, a Centene company, in Woodland Hills, CA. Centene is a publicly traded managed care organization that delivers managed health care services through health plans and government sponsored managed care plans. Doug serves as chief regulatory legal counsel for Health Net and its subsidiaries and manages the health plan division regulatory legal staff; he is responsible for providing legal counsel for a variety of complex legal matters regarding the managed care and insurance industry.
Prior to assuming his current role in 2008, Doug was the Vice President and Deputy General Counsel for WellPoint, Inc. and was responsible for budget and management of legal support for business and operational matters for the West Region health plan operations and Specialty, Senior and State Sponsored Business. He received his J.D. from St. Louis University School of Law, where he served as the Health Law Editor of the St. Louis University Law Journal, and he received a Master of Health Administration from St. Louis University. Doug graduated with honors from The College of St. Scholastica in 1981. Doug and his wife, Lori, a clinical psychologist and 1981 CSS graduate, live in Oxnard, CA and have three children: Mathew Schur, MD, at Keck USC; Sarah Schur, a first-grade teacher in Apple Valley, MN; and Samuel Schur, a sophomore at Carleton College.
David Sparby '76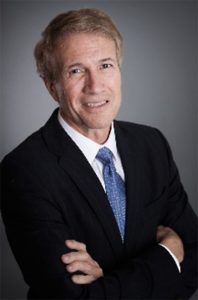 David Sparby is the Director of MDU Resources, Inc. David recently retired as senior vice president from Xcel Energy Inc., Minneapolis, MN. Previous to that he was vice president and chief financial officer of Xcel Energy Inc.; and president and chief executive officer of Northern States Power Company-Minnesota, an Xcel Energy company. He joined NSP-Minnesota in 1982 as a staff attorney and has held numerous positions in Gas Supply, Corporate Rates, Regulatory Services, and Government Affairs.
David earned a law degree from William Mitchell College of Law, a master of business administration degree from the University of St. Thomas, and a bachelor of arts degree in History from The College of St. Scholastica in 1972. He currently serves on the board of directors for the Saint Paul Riverfront Corporation and the William Mitchell College of Law. He is an advisory board member of the William Mitchell Center for Law and Business as well as the University of Colorado, Denver, business school.
Michelle (Mimi) Stender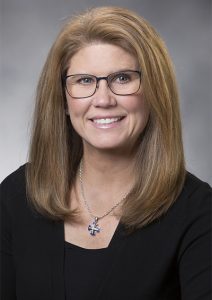 Mimi Stender is a long-time Duluth resident and a 1992 graduate of Colorado College. Mimi is Founder and President of Duluth Aging Support, a non-profit organization that provides and supports innovative methods that bring joy and enhance the lives of Duluth's senior community. Recently, Mimi along with a leadership team through Dementia Friendly Duluth, founded the Victory Chorus, a structured formal chorus comprised of people living with dementia singing alongside volunteer singers. Previously, Mimi served as the Director of Dementia Friendly Duluth, a community initiative of the Victory Fund.
Her past work was devoted to health promotion at the policy, systems and community level as Executive Director and Advocacy Director of Fit City Duluth, co-creator of the Healthy Duluth Area Coalition, and a Duluth local Statewide Health Improvement Partnership (SHIP) Coordinator. Mimi currently serves the Alzheimer's Association as a volunteer community educator and a caregiver support group facilitator. Recent community service activities include board chair, vice chair, and treasurer of Community Action Duluth, member of the Duluth Area Family YMCA board of directors, and YMCA Community Services Branch advisory board member. Mimi and her husband, Tom, have three children.
John Strange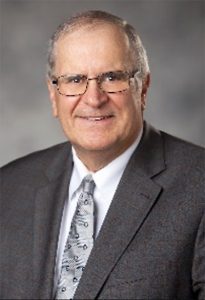 John Strange is the retired President and CEO of St Luke's Hospital. A native of Milwaukee, WI, John attended U.W. Stevens Point, where he earned a bachelor of science in Business Administration with a specialization in Accounting as well as Economics. He then attended Cardinal Stritch College, where he earned a master's degree in Organizational Management and Design. John started his career in the for-profit business world as an accountant at Cuneo Press, Inc., which is a printing firm.
After four years, he moved to Pepsi Cola Bottling Group as senior accountant and credit manager for the Milwaukee metro area. Four years later, John transitioned into the not-for-profit world of healthcare by joining Burlington Memorial Hospital in Burlington, WI, as an accountant supervisor. Fourteen years later he left Burlington Memorial as Executive Vice President responsible for half of the hospital and clinic operations. John then moved to Duluth and joined St. Luke's Hospital as CFO in 1992. Four years later he transitioned to the role of President and CEO until his retirement in 2019. During his career, John served on many community boards, and is still active on the boards of the Ordean Foundation and the Animal Allies Humane Society.
Tom Wedige '85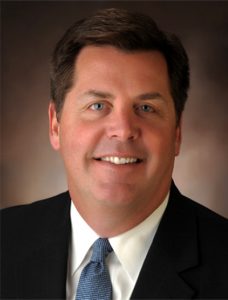 Thomas (Tom) Wedige is a 1985 graduate of The College of St. Scholastica with a bachelor of arts in Business Administration. He received a Certificate in Retirement Planning from Wharton University of Professionals in 2006. Tom was inducted into the Equitable Hall of Fame in 1996. He has received many company and industry awards as an elite advisor over the years. Tom founded Voyageur Financial Group, LLC, in 1996. Tom and his firm help to meet the planning needs of individuals and businesses, focusing on the protection, accumulation, and distribution of a clients' assets through a step-by-step financial strategies process.
Tom serves as an active member on the Board of Directors for the Boys and Girls Club of Greater Green Bay and has done so since 1990. Tom has received two "national Service to Youth" awards from the National Boys and Girls Clubs of America. Tom enjoys boating, traveling, golfing and spending time with his family. Tom resides in Green Bay with his four daughters.
Presidents Emeriti
Larry Goodwin, PhD
Bruce W. Stender, PhD
Trustees Emeriti
Karen Alworth
Sister Grace Marie Braun, OSB
William M. Burns
Mark Carlson, MD
Christopher Dolan
Sister Kathleen Hofer
Mary Ives
Sharon Labovitz
Jim Mongé, MD
Philip Rolle
Robert Ryan
Arend J. Sandbulte
Jacquelyn Sebastian
Greg Scherer
Robert (Bob) Schroeder
Sister Sarah Smedman, OSB
Elizabeth Stauber-Johnson
Louise Town, MD
James Zastrow