October 26, 2023
Winter 2023 athletics schedules announced
The Athletics Department of The College of St. Scholastica is pleased to announce the winter schedules for participating men's and women's programs. Read more about each program, including a recap of the 2022-23 seasons, and view their upcoming schedules.
Basketball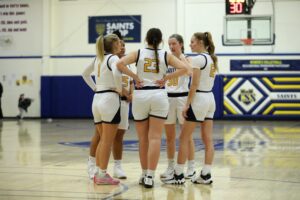 The men's and women's basketball programs both hired their first full-time assistant coaches during the offseason. The men's team hired Christian Butler, a Texas native who comes to St. Scholastica after spending 4 seasons at Aurora University in Aurora, IL. The women's program added Gene Schaedel, the previous Head Girls Basketball Coach at South Hunterdon High School in Lambertville, NJ for 5  years.
Fans will be able to see both teams in action for their first games on Nov. 8 when the women play Crown College at 5:30 p.m. and the men take on Northland College at 7:30 p.m. at Reif Gymnasium.
Hockey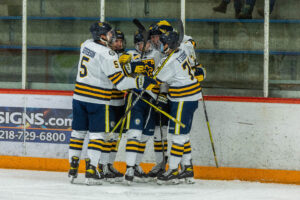 The men's hockey team is coming off a historic season after they were named the MIAC regular season conference champions for the first time in program history. They were also the first Saints athletics program to win a championship since joining the Minnesota Intercollegiate Athletic Conference (MIAC).
The team will face off against bridge rival University of Wisconsin-Superior at Mars Lakeview Arena on Oct. 28 at 7 p.m.
The women's hockey team just missed a chance at the playoffs last season; they'll look to grab their first win on the road on Oct. 27 when they face University of Wisconsin-River Falls. Fans will have their first chance to support the women at home when they take on Gustavus Adolphus College on Nov. 9.
Indoor Track & Field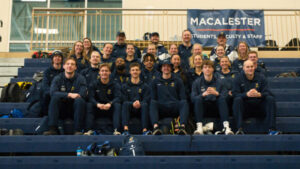 Last year the women's track & field team earned a pair of All-Conference awards and picked up one individual honorable mention at the MIAC Indoor Championships at Macalester College. The men also received several awards, earning a total of 3 All-Conference awards, 1 individual honorable mention and 1 honorable mention for the relay team at the Championships. Senior sprinter Samuel Eben Ebai would qualify for the NCAA Division III Indoor Track & Field Championships in the 60m dash but wouldn't be able to advance.
Heading into this year, the teams will look to qualify more athletes as they start their indoor season on Dec. 9.
Men's Indoor Track & Field Schedule
Women's Indoor Track & Field Schedule
Nordic Skiing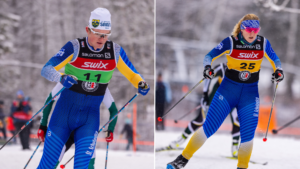 The men's team is coming off a record-breaking season that included 3 CCSA individual wins, 8 podium finishes, 9 all-region performances, 2 all-conference performances, a CCSA podium sweep and an individual regional championship win. The men's team won the NCAA Regional and qualified a full men's team for the NCAA Championships.
The women's nordic ski team also had a historic season with 5 individual podiums, 2 all-conference selections, 5 all-region performances, a historic team weekend win at the Cable CCSA/Super tour race weekend and an individual regional championship win.
The skiing program also starts the season with a new head coach, Jason Kask. Kask's hire earlier this summer brings him back to St. Scholastica; he was a member of the inaugural nordic skiing team at the College. He will be the third head coach in program history.
The Saints skiing schedule will begin at home when they race on Dec. 9 and 10 at the Grand Avenue Nordic Center.
Women's Nordic Skiing Schedule
---
Saints Athletics pursues excellence while fostering a positive experience and sense of community through commitment, integrity, respect and sportsmanship. For more information on Saints Athletics, including team rosters and stats, please visit csssaints.com.