May 31, 2019
Welcome, Dr. McDonald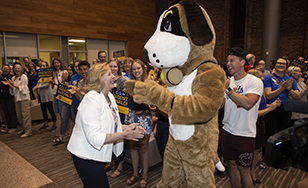 The Duluth campus community offered a warm Saints welcome to President Barbara McDonald on Aug. 5 as she celebrated her first day in office. The feeling was mutual – even Storm the mascot got a hug!
The happy crowd inside Benedictine Commons included faculty, staff, students, alums, Sisters, current and former Trustees, and friends of the College. See a photo album here.
Thank you to all who participated, and who posted on Facebook and Twitter.
The event was covered by WDIO-TV Channel 10 and FOX-TV Channel 21.
"Dr. Barbara McDonald is a visionary leader whose wide-ranging experience and student-centered approach make her the right person to lead The College of St. Scholastica," said Christopher Dolan, chair of the St. Scholastica Board of Trustees, when Dr. McDonald was named the College's next president during an on-campus event on May 30. "Throughout her career, which includes deep familiarity with Northeastern Minnesota, she has shown an ability to forge productive relationships, cultivate innovation and build support for institutional goals in service to students' success. She is a leader of proven integrity and insight."
Dr. McDonald, 61, came to St. Scholastica from North Hennepin Community College (NHCC) in Brooklyn Park, MN, where she had served as president since 2015. NHCC is one of the largest and most diverse community colleges in the state, serving over 10,000 students. It is part of the Minnesota State Colleges and Universities system (Minnesota State). McDonald retired from Minnesota State on Aug. 2, 2019, after 22 years of service.
"I am thrilled and honored to be given the opportunity to serve as the 13th president of The College of St. Scholastica," McDonald said. "I look forward to working alongside our outstanding students, faculty, and staff as we move the College forward to a bright future. I want to thank the Board for their confidence in me and the St. Scholastica family for welcoming me to their fold."
Dr. McDonald succeeds President Colette Geary, who announced in January that she would depart St. Scholastica to spend more time with her family. Geary became president in July 2016.
A national search led to McDonald's appointment. Trustees Emeriti Mary Ives and Phillip Rolle were co-chairs of the Presidential Search Committee.
"Dr. McDonald has a history of building successful teams throughout her career," Ives and Rolle said in a joint statement. "Her inclusive leadership style fits perfectly with St. Scholastica's vision, mission and values and will serve as a foundation for collaboration and consensus building. In addition, Dr. McDonald not only has had experience living and working in numerous foreign countries, but has shown extensive leadership in supporting diversity and inclusion. We're very excited to have her on campus."
Dr. McDonald's career in higher education includes extensive experience in teaching, scholarship, administration, and international education.
She earned a Doctor of Education (Ed.D.) from the University of Minnesota-Minneapolis in 2002; a Master of Arts in Teaching English as a Foreign Language from the American University in Cairo, Egypt in 1983, and a Bachelor of Arts in English from the University of Colorado-Boulder in 1980 after transferring from The College of St. Scholastica.
Dr. McDonald's work within the Minnesota State system started at Rainy River Community College in International Falls, MN, from 1997 to 1999, where she taught and served as faculty assessment and service learning coordinator. From 2000 to 2014 she served in various leadership roles in academic and student affairs at Itasca Community College (ICC) in Grand Rapids, MN, where she was promoted to provost. She then served as interim president for one year at Minnesota West Community and Technical College based in Worthington, MN.
McDonald has served on many civic boards including the Itasca Economic Development Board, the Grand Itasca Hospital and Clinic Board, the Reif Performing Arts Board, and others. A Catholic, she also served on the Parish Council of St. Joseph's Catholic Church in Grand Rapids.
Her leadership development experience includes the Minnesota Partnership for Executive Leadership Development Program in 2012, the Higher Education Resource of Institute of Bryn Mawr University in 2011, the Blandin Community Leadership Program in 2009, and the Leadership Academy of the University of Minnesota from 1998 to 2002.
Dr. McDonald grew up in Beirut, Lebanon, and earlier in her adult career she and her family lived and worked abroad for many years in Africa, Europe, the Middle East, and Asia.
The College of St. Scholastica is an independent private college founded in 1912 by the Catholic Benedictine Sisters of Duluth, who remain its sponsors. More than half of the student body of over 4,000 are non-traditional students in graduate, extended-site and online programs. About 1,700 students make up the traditional student body at the Duluth campus, about half of whom live on campus.
Check back later for more photos, media coverage and other updates.