December 18, 2019
Vote of confidence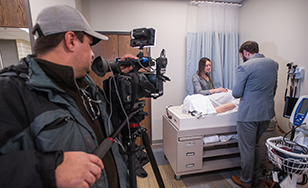 St. Scholastica has received the largest public and private grants in its 108-year history. Both gifts will enhance the educational experiences of St. Scholastica nursing students, making a positive impact on the future of healthcare in the region.
During a press conference on campus today, St. Scholastica President Barbara McDonald announced that the School of Nursing (SON) has been awarded $2.79 million, the largest grant in the College's history, to fund the Advanced Nurse Education Workforce (ANEW) project.
Separately, the College also has received the largest-ever private grant in its history – $1.125 million from the Manitou Fund of White Bear Lake.
The ANEW initiative, a four-year investment from the federal Health Resources and Services Administration, will address primary care workforce shortages in rural and under-served communities. It will also strengthen St. Scholastica's long-standing partnership with Essentia Health.
A press conference announcing the news on Dec. 19 attracted coverage from the Duluth News Tribune, Business North, WDIO-TV Channel 10,  KBJR-TV Channel 6, and FOX-TV Channel 21.
The ANEW program's training is two-fold, involving Doctor of Nursing Practice students at St. Scholastica and practicing nurse practitioners (NPs) at Essentia Health's clinical sites in the Northland region.Grant funding will provide professional development for practicing NPs who will work with the NP students in clinical settings. The NPs' mentorship skills will be enhanced, while DNP students will gain long-term primary care experiences at partnership sites in rural and under-served communities. The grant includes education for NP students and practicing NPs throughout the region to better prepare them to manage behavioral health concerns and opioid addiction in the primary care setting.
In addition, students will gain experience in providing care via telehealth, a form of technology that is used to deliver healthcare remotely, and cultural fluency, which explores working with patients from diverse cultural and religious backgrounds. The ultimate goal of the project is to recruit and retain nurse practitioner graduates who are doctorally-prepared in rural and medically under-served communities.
Meanwhile, the Manitou Fund's gift will primarily be directed toward completing a series of major renovations to the Nursing Department's learning spaces, creating state-of-the-art, hands-on educational experiences for students. Grant funds directed toward the SON will be used to build and furnish two new simulation labs for acute care (short-term care, often for seriously ill patients) and ambulatory care (multidisciplinary healthcare practice for outpatients).
"I can't overstate the significant impact that this will have on our nursing students," said Dr. Sheryl Sandahl, dean of the SON. "In the world of healthcare education, simulation has become an integral element of preparing all levels of professionals. There is simply no substitute for hands-on experience."
The new facilities are projected to be completed by the spring semester of 2021.