August 12, 2020
Volunteers sought for OT learning program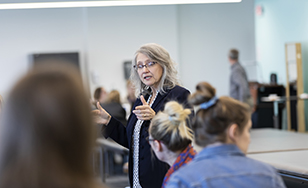 St. Scholastica's Occupational Therapy Department is partnering with the University of Minnesota-Duluth's Pharmacy program for an interdisciplinary team learning project, and they need volunteer help to make this a success.
Patient volunteers called "Community Teachers" (CTs) are currently being recruited for this program. The volunteers will help to provide a real-world experience by meeting with the OT and Pharmacy students. The students will practice creating care plans and will learn about the healthcare system in an interprofessional environment.
CTs should have a new or fluctuation health condition that they manage. Examples include but are not limited to diabetes, dementia, rheumatoid arthritis, digestive issues, or behavioral health/mental health issues, and they may be on or off their medication. They would need to be willing to meet with the students twice in the fall and once in the spring.
Interested volunteers can contact Suzanne Stein, Community Teacher Program Coordinator at the University of Minnesota Interprofessional Health Department, at (612) 626-0575 or cteacher@umn.edu.