March 26, 2019
Vocal Revolution returns to the St. Scholastica stage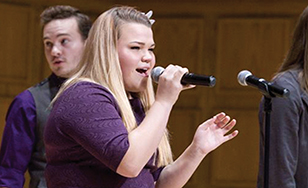 St. Scholastica's Vocal Revolution performance group will bring its a cappella stylings to the College's Mitchell Auditorium at 3 p.m. Sunday, April 14.
Vocal Revolution embraces the flair of the human voice in everything from favorite jazz classics to modern pop and rock. Led by director Eric Hagmann, the concert will feature a cappella classics like "For The Longest Time" by Billy Joel and more contemporary songs like "Fallin'" by Alicia Keys.
"I am excited that for this concert, we will be joined by Fermata Duluth from the University of Minnesota Duluth, Convocadence from Augsburg University, and Tonal Recall from Shell Lake High School," Hagmann said. "Together, we will be collaborating on an original arrangement of 'Change the World' by Eric Clapton that I wrote specifically for this event."
Tickets are $5 and can be purchased at the door or in advance through the Spotlight Box Office at spotlight@css.edu or at 218-723-7000.