May 18, 2020
Virtual research presentations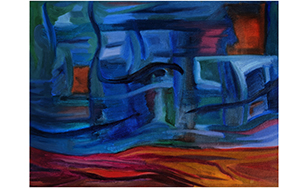 Spring semester typically wraps up with Scholarship and Creative Arts Weeks. Bustling with activity, SCAW features poster presentation sessions, senior artwork exhibitions, and end-of-the-year awards ceremonies. Students gather to showcase the research and artistic projects they've been working on all semester, sharing their efforts with classmates, faculty and staff, as well as family and friends.
This year, SCAW organizers had to improvise due to COVID-19, hosting Zoom sessions, building out websites, and sharing celebrations on social media.
SCAW organizer Pam Freeman PhD, assistant biology professor, said the events offered a multidisciplinary celebration of students' achievements.
"It seemed especially important this spring to give students the ability to showcase their work and accomplishments," Freeman said. "These events were a testament to the character of the students and the faculty who guided them, that even through all the disruption of this spring, students were still completing scholarly work."
The events kicked off on April 21 with the 18th Annual Twin Ports Undergraduate Psychology Conference, a joint event with the University of Minnesota-Duluth and the University of Wisconsin-Superior.
April 22 marked the start of the Annual Student Art Exhibition, which is active until May 30 and can be found on Instagram. Senior art students discussed their portfolios during capstone presentations on May 1.
On April 23, a pair of student awards were announced during a virtual ceremony. Michael Moores, a double major in Art and History, won the 2020 Dean's Purchase Award for his work, "Empty Skies." His 16″ x 20″ oil on canvas work will become part of St. Scholastica's permanent art collection, and will be displayed in the School of Health Sciences.
Rose Carpenter won the College's 7th annual Bede Award for Undergraduate Library Research. Her winning essay describes her research process for a paper entitled "The Importance and Benefits of Music Education."
Also on April 23, graduate poster presentations were published for Physical Therapy, Athletic Training and Social Work students. They can be found at this site. Click "home" in the upper right hand corner for a menu.
April 29 brought the Undergraduate Student Poster Presentation Session, featuring both live presentations and recordings. They can be viewed at this site.
On April 30, the Stender School of Business and Technology's annual New Products Trade show debuted online at https://bit.ly/newprod2020. Double-click on the "visit website" button to bring up individual websites for each product.
Students in the Global, Cultural and Language Studies and Peace and Justice Studies programs gave senior presentations online. The Project Management Graduate Research Symposium was held on May 9.
Freeman said she's proud of the resilience and ingenuity shown by students and faculty.
"It was important, uplifting and encouraging to be able to celebrate and honor, through a range of SCAW activities, all the students' great work and our entire community of learners," she said.