September 15, 2020
Virtual Peace and Justice lecture series starts Sept. 30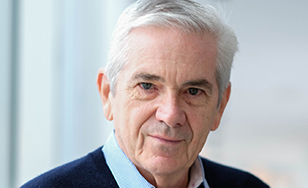 St. Scholastica's Peace and Justice lecture series will continue this year in a virtual format.
The theme for the 2020-21 Alworth Center for Peace and Justice Lecture Series is "New Immigrants – Familiar Stories?" All lectures will be presented as webinars. They're free and available for anyone to attend through the Zoom video conferencing tool. Attendees are asked to pre-register at css.edu/peace.
Journalist and author Tom Gjelten will present this year's first lecture, "Welcoming New Nations to our Nation," at 7:30 p.m. CST on Wednesday, Sept. 30.
A graduate of the University of Minnesota, Gjelten began his professional career as a public school teacher and freelance writer. He is a journalist and author of "Sarajevo Daily: A City and Its Newspaper Under Siege" and "Bacardi and the Long Fight for Cuba: The Biography of a Cause." Over a 30-year career as a correspondent for National Public Radio News, he has covered wars in Central America, the Middle East, and the former Yugoslavia, as well as major national stories in the United States.
Tom Morgan, director of the Alworth Center for the Study of Peace and Justice, organizes the annual lecture series. He chose this year's theme because the United States seems to be on the cusp of a major demographic shift.
"By some measures, roughly 27 percent of folks living in this country are either foreign born or the children of people born overseas," Morgan said. "The last time the U.S. has hosted such a large number of immigrants as a percentage of the population was at the turn of the 20th century.  What's more, most of today's immigrants are not from Europe as in the past. Most of them are from Asia, Africa and Latin America."
This year's speakers will examine the causes of today's immigration patterns, and look into the challenges and opportunities offered by this new wave of immigrants, Morgan said.
He said he appreciates the commitment of longtime supporters of the lecture series, and believes that they will find value from lectures delivered in a virtual format.
"It didn't seem safe to do in-person events this year, so we're offering the same program online. People will still be able to interact with the speakers via a question-and-answer session. Books that speakers have written will be available at The Bookstore at Fitgers," Morgan said.
The complete 2020-21 Peace and Justice lecture series includes:
Thursday, Nov. 12: "We Are Here Because You Were There" with Suketu Mehta
Thursday, Feb. 11, 2021: "Why the U.S. Needs More Immigrants" with Darrell Bricker
Thursday, March 4, 2021: "For Whom is the American Dream?" with Charlotte Frantz
Tuesday, March 23, 2021: "What We Can Learn from Newcomers" with Claudia Kolker
All lectures are at 7:30 p.m. For more information or to register for the Zoom webinars, go to css.edu/peace, or contact Morgan at tmorgan@css.edu or 218-723-6442.