Theater presents "Merry Wives"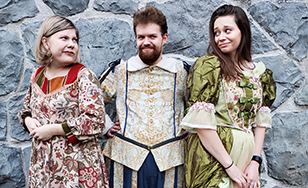 St. Scholastica Theatre will bring a classic Shakespearean comedy to the stage when "The Merry Wives of Windsor" opens on Nov. 1.
The production, directed by Merry Renn Vaughan, associate professor of Communication, Theater and Art at St. Scholastica, will be at 7:30 p.m. in the St. Scholastica Theatre behind Tower Hall on campus. Tickets are $15 for adults, and $10 for seniors and students. Evening performances will also be staged on Nov. 2, 7, 8 and 9. Matinees will be held at 2 p.m. on Nov. 3 and Nov. 10.
"Merry Wives" tells the story of Mistress Ford (Keely Jackson) and Mistress Page (Kendra Manges). They are some of the finest ladies in all of Windsor; high-class, elegant, absurdly wealthy, and the best of friends. Unluckily for them, that makes them targets for Sir John Falstaff (Mitchell Gertken), the most morally destitute knight of the realm. The egotistical Falstaff tries to seduce these two wives of Windsor – at the same time. Add in Ford's jealous husband, a rabble of nosy townsfolk and bumbling crooks, and a priest and doctor at each other's throats, and any audience might learn why "wives may be merry, and yet honest too."
St. Scholastica is nationally recognized for quality and value. It has been named the top Minnesota college for economic mobility, and U.S. News & World Report includes it on its Best National Universities and Top Performers on Social Mobility lists. The College is ranked on Money magazine's "Best Colleges for your Money" list, Princeton Review's 2020 list of Best Midwestern Colleges, and Forbes' Top Colleges list. The Center for First-Generation Student Success has named St. Scholastica one of the top 80 colleges in the country for commitment to first-generation students. Learn more at css.edu.