February 5, 2020
"The Power of Restorative Justice" with Lara Bazelon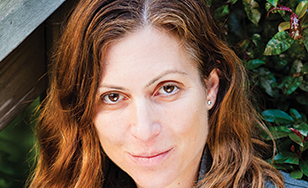 St. Scholastica will host a writer, attorney and scholar for a presentation about a different approach to the criminal justice system.
The Alworth Center for the Study of Peace and Justice Lecture Series presents "The Power of Restorative Justice" with Lara Bazelon at 7:30 p.m. Tuesday, Feb. 18, in the Mitchell Auditorium on campus.
Bazelon is an associate professor at the University of San Francisco School of Law, where she directs the Criminal & Juvenile Justice and Racial Justice Clinics. She has served in the Office of the Federal Public Defender in Los Angeles, and her focus is on  the intersection between ethics and criminal justice advocacy.
Bazelon has an interest in restorative justice, an approach that focuses on healing and unity rather than punishment and blame.
In her book "Rectify: The Power of Restorative Justice After Wrongful Conviction,"Bazelon puts a face to the growing number of wrongfully convicted men and women who were later exonerated from crimes. These situations are devastating not only to the exonerees, Bazelon writes, but also their families, the crime victims who mistakenly identified them as perpetrators, the jurors who convicted them, and the prosecutors who realized too late that they helped convict an innocent person.
This event is free and open to the public.
The theme of the 2019-20 Alworth Center for the Study of Peace and Justice Lecture is "…And Justice for All." This lecture series confronts American culture with questions about our legal morality: Is justice available to everyone in equitable portions? Do we all  understand justice the same way?
The rest of the schedule for this year's Peace and Justice lectures:
"Justice, Reconciliation and the Gifts of Nature" with Jamie Harvie, Tuesday, March 3. Harvie is the executive director of the Institute for a Sustainable Future, and brings to light the intersections between the legal system and the ecosystem.
"Life and Freedom on Death Row" with Anthony Ray Hinton, Thursday, March 26. Hinton is the survivor of a nearly 30-year sentence on death row on a wrongful conviction, and will speak about his time in legal limbo.
All lectures are at 7:30 p.m. in the Mitchell Auditorium on the Duluth campus.