The College of St. Scholastica's upcoming virtual Peace and Justice series presentation to focus on "For Whom is the American Dream?"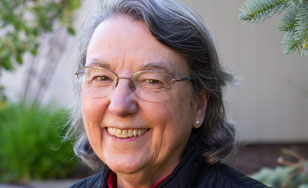 St. Scholastica's next Alworth Center for Peace and Justice lecture series will be held virtually this month.
The theme for the 2020-21 Alworth Center for Peace and Justice Lecture Series is "New Immigrants – Familiar Stories?" This year's speakers examine the causes of today's immigration patterns, and look into the challenges and opportunities offered by this new wave of immigrants. The series is free and available for anyone to attend through Zoom. Attendees are asked to pre-register at css.edu/peace.
This month, ordained minister Charlotte Franz will present "For Whom is the American Dream?" at 7:30 p.m. on Thursday, March 4 via Zoom.
Charlotte Frantz was ordained as a minister in the United Church of Christ in 1975. She served congregations in Indiana, Montana, Iowa and the Twin Cities before coming to Duluth where she served at Pilgrim Congregational Church from May of 2002 to January of 2015. She holds a Masters of Divinity (M. Div.) from Eden Theological Seminary. Frantz has also been an avid advocate for the refugee population in Duluth.
St. Scholastica is a 109-year-old private, independent college founded in the Catholic Benedictine tradition. It is nationally recognized for quality and value. It has been named the top Minnesota college for economic mobility, and U.S. News & World Report includes it on its Best National Universities and Top Performers on Social Mobility lists. The College is ranked on Money magazine's "Best Colleges for your Money" list, Princeton Review's 2020 list of Best Midwestern Colleges, and Forbes' Top Colleges list. The Center for First-Generation Student Success has named St. Scholastica one of the top 80 colleges in the country for commitment to first-generation students. Learn more at css.edu.