February 16, 2021
The College of St. Scholastica's upcoming Faculty Colloquium reflects on creating a children's book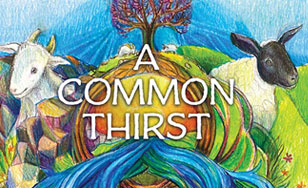 Past and present faculty at the College will reflect on their time writing and illustrating a children's book designed to help children think about the earth we all share.
Gary Boelhower, Professor Emeritus and Sarah Brokke Erickson, Associate Professor of Art will present Crafting a Children's Book Focused on the Common Good during the School of Arts and Letters Faculty Colloquium being held via Zoom from 3:30 – 4:50 p.m. on Friday, Feb. 26.
Boelhower and Brokke Erickson will reflect on their collaborative artistic journey of creating A Common Thirst (published by Beaver's Pond Press in November 2020), refining the message and creating illustrations to convey the challenge and delight of understanding the common good.
The talk will be followed by a question-and-answer session. The event is free and open to the public. Visit spotlight.css.edu to register.
Now in its 14th year, St. Scholastica's School of Arts and Letters Colloquium is a monthly lecture series highlighting faculty research.