The College of St. Scholastica's Lighting a Tradition moves to virtual event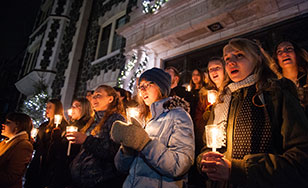 The College's Lighting a Tradition event previously open to the public, has been changed to an even more social-distance friendly virtual lighting event.
The lighting of Tower Hall will take place at 5:15 p.m. on Wednesday, November 18. For those needing some Christmas cheer, the College encourages you to join virtually from the front steps of Tower Hall via Facebook Live to watch the lights go on! The event is also being video recorded for delivery with the President's Holiday Event to be viewed via YouTube on December 1 by our community.
The video of the President's Holiday Event will feature a reflection given by Sister Beverly Raway, Prioress of the St. Scholastica Monastery, followed by the address from President McDonald.
St. Scholastica is a 109-year-old private, independent college founded in the Catholic Benedictine tradition. It is nationally recognized for quality and value. It has been named the top Minnesota college for economic mobility, and U.S. News & World Report includes it on its Best National Universities and Top Performers on Social Mobility lists. The College is ranked on Money magazine's "Best Colleges for your Money" list, Princeton Review's 2020 list of Best Midwestern Colleges, and Forbes' Top Colleges list. The Center for First-Generation Student Success has named St. Scholastica one of the top 80 colleges in the country for commitment to first-generation students. Learn more at css.edu.