November 25, 2019
Sustainability on display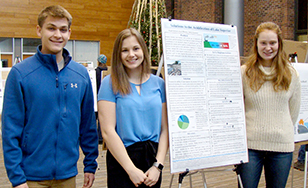 St. Scholastica students will showcase their sustainability-related research projects next week.
The 3rd annual Sustainability and the Environment Showcase will be from 9 a.m. to 2 p.m. Friday, Dec. 6 in the Benedictine Commons, located in the Science Center on campus.
More than 100 students will present their research about solutions to climate change and other environmental/sustainability issues. Organizers have invited a variety of local leaders and sustainability advocates,  including representatives from the Duluth mayor's office, Wolf Ridge Environmental Learning Center, Ecolibrium3, and Citizens Climate Lobby.