March 3, 2020
Support for young singers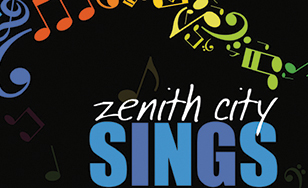 THIS EVENT HAS BEEN CANCELED.
St. Scholastica's choirs will host a choral festival culminating in a free concert at 7 p.m. Tuesday, March 24 in the Mitchell Auditorium on campus.
During Zenith City Sings, St. Scholastica will welcome local high school choirs to campus to celebrate the area's diverse choral traditions through a collaborative choral festival.
"Our goal is to highlight the amazing work of local high schools and to celebrate our choral community in the Twin Ports area," said Sarah Ludwig, DMA, Director of Choral Activities and Vocal Music Education at St. Scholastica.
The College will welcome 80 guests to campus from Marshall School, Harbor City International School, and Superior High School. Students will spend a half day in rehearsal, learning two pieces with St. Scholastica's choirs.
During the evening concert, each choir will perform individually. Then, all the choirs will come together, featuring about 150 voices on stage, to perform the two pieces they learned during the day.
The concert is free and open to the public.