April 17, 2020
Student named Newman Civic Fellow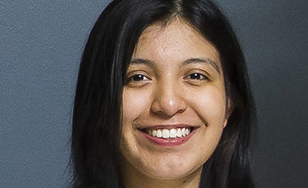 Student leader Chantell (Chanty) Armijo-Cruz has been named a Newman Civic Fellow by Campus Compact, a national coalition of colleges and universities working to advance the public purposes of higher education. Armijo-Cruz is one of 290 students nationwide who make up the 2020-2021 cohort of Newman Civic Fellows.
Armijo-Cruz is a junior double-majoring in Social Work and Psychology. She is from Richfield, MN. St. Scholastica President Barbara McDonald, Ed.D, nominated Armijo-Cruz.
"I am honored to be chosen as a Newman Civic Fellow," Armijo-Cruz said. "I would like to thank Chris Davila (Director of the Office of Equity, Diversity and Inclusion) and President McDonald for their support and dedication to student success. This will enable me to develop my commitment to social justice through networking with other students around the country who are creating meaningful progress."
The Newman Civic Fellowship is a yearlong program for student leaders who demonstrate a commitment to finding solutions for challenges facing communities locally, nationally, and internationally. Newman Civic Fellows gain a variety of learning, training and networking opportunities that emphasize personal, professional, and civic growth, including being part of a national conference. The fellowship also provides fellows with pathways to apply for exclusive scholarship and post-graduate opportunities. President McDonald said Armijo-Cruz sets a good example for her fellow students.
"Chanty's involvement and leadership has not been limited to one topic or issue," McDonald said. "As is evident by her variety of leadership roles, she is passionate about working with others and striving for social justice change."
At St. Scholastica, Armijo-Cruz served as vice president of the Student Government Association in 2019-20, and in April 2020 she was elected SGA president for the 2020-21 school year. She previously served as Senate Diversity Chair. She is actively involved in the Latinx Student Union as the treasurer and serves as a Multicultural Leadership Orientation mentor and Youth Theology Institute leader/mentor. She is a recipient of St. Scholastica's Sister Timothy Kirby Social Justice Scholarship.
Armijo-Cruz was integral in initiating the Professional Clothing Closet, which coordinates donated clothing for students, and serves as its manager. She has actively worked on the Gender Inclusive Restroom Project, which has identified gender-inclusive restrooms on campus and made changes to signage to increase accessibility to trans and non-binary persons.
"As our political climate continues to be polarized, it's now where we unite to empower those underrepresented," Armijo-Cruz said. "Activism comes in various ways and for me, it has been through volunteer work, and being a member of the Student Government Association at St. Scholastica." The Newman Civic Fellowship is named for the late Frank Newman, one of Campus Compact's founders, who was a tireless advocate for civic engagement in higher education. In the spirit of Dr. Newman's leadership, Campus Compact member presidents and chancellors may nominate one student from their institution for the fellowship.
"We are proud to recognize each of these extraordinary student leaders and thrilled to have the opportunity to engage with them," said Campus Compact President Andrew Seligsohn. "The stories of this year's Newman Civic Fellows make clear that they are committed to finding solutions to pressing problems in their communities and beyond. That is what Campus Compact is about, and it's what our country and our world desperately need."
The Newman Civic Fellowship is supported by the KPMG Foundation and Newman's Own Foundation. Learn more at compact.org/newman-civic-fellowship.