Student, faculty member recognized for civic leadership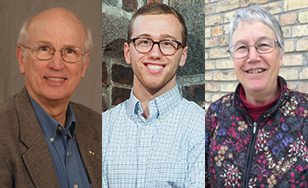 Students and faculty from St. Scholastica, along with a Duluth advocacy organization for people who are homeless, have received awards from the Minnesota chapter of a national higher education organization promoting civic leadership.
Campus Compact announced the winners of the 2020 Presidents' Engaged Campus Awards. Nationally, this year's awards include over 100 honorees selected by 38 member college and university presidents in Campus Compact.
This includes three honorees from The College of St. Scholastica, as recognized by Minnesota Campus Compact:
Thomas Morgan, winner of the Civic Engagement Award. Dr. Morgan is a professor in St. Scholastica's Global, Cultural and Language Studies department and directs St. Scholastica's Alworth Center for the Study of Peace and Justice. For many years, the Center's annual speaker series has brought internationally known authors, artists, scientists and activists together with community members, students, faculty and staff, to discuss the most compelling issues in modern society. This year's focus is criminal justice in the United States.
Andrew Bailey is the winner of the Student Leadership Award. He was a 2019 Phillips Scholar and is the College's Student Government Association president. As a Phillips Scholar, Mr. Bailey created leadership development for rising 7th and 8th grade students by designing a training program that empowered them to become leaders in their schools and communities. In his Student Government Association leadership role, he advocates tirelessly for students on topics such as equity, affordability and mental health.
CHUM, or Churches United in Ministry, is the winner of the Community Partner Award. Under the leadership of executive director Lee Stuart, CHUM serves 8,000 low-income, homeless, hungry or otherwise marginalized community members each year by providing emergency shelter, food and street outreach. St Scholastica partners with CHUM by putting Catholic Social Teaching into action. Campus Ministry student leaders work as CHUM Delegates, organizing efforts through education, advocacy, and service.
St. Scholastica President Barbara McDonald, Ed.D, said the awardees "represent the best and most dedicated civic and community engagement leaders and partners in our campus community. We are very proud of them!"
Emily Shields, executive director of Minnesota Campus Compact, said this year is a  particularly important time to recognize effective collaborations happening between communities and campuses.
"The current crisis makes the important public role of colleges and universities even more evident and these examples demonstrate what's possible."
In Minnesota and nationally, Campus Compact strengthens the capacity of colleges and universities to fulfill the public purposes of higher education through its network of campuses. This includes educating students through community and civic learning experiences and making an impact in communities through reciprocal partnerships that address community-identified goals. Minnesota Campus Compact creates partnership opportunities, supports quality programming through professional development, and promotes the importance of the civic mission.
The College of St. Scholastica is a 108-year-old private, independent college in Catholic Benedictine  tradition. It is nationally recognized for quality and value. It has been named the top Minnesota college for economic mobility, and U.S. News & World Report includes it on its Best National Universities and Top Performers on Social Mobility lists. The College is ranked on Money magazine's "Best Colleges for your Money" list, Princeton Review's 2020 list of Best Midwestern Colleges, and Forbes' Top Colleges list. The Center for First-Generation Student Success has named St. Scholastica one of the top 80 colleges in the country for commitment to first-generation students. Learn more at css.edu.