Student employee wins College, state honors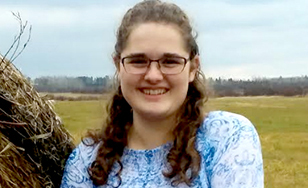 A writing center tutor at St. Scholastica has been named the top student employee at the College as well as in the state of Minnesota.
Katelynne Schatz, a senior English and secondary education major from Kettle River, MN, has worked for the Rose Warner Writing Center under the supervision of center director Steven Backus for three years. In his nominating form, Backus praised her communication skills, welcoming personality, and poised and mature demeanor. He called her hardworking, honest, fair and dependable.
"Katelynne is first and foremost an expert communicator, which makes her a perfect representative of the Rose Warner Writing Center, where words matter," Backus wrote.   "She puts students at ease with empathy and sensitivity, which is especially important in the Writing Center because many students are already experiencing anxiety with writing and critical thinking. She's never stressed out or rushed or nervous, but remains consistently calm and mature, which adds to her overall clear communication."
Schatz plans to become an English teacher. In addition to being named St. Scholastica's Student Employee of the Year, she was named the Student Employee of the Year for Minnesota by the Midwest Association of Student Employment Administrators.
St. Scholastica is a 108-year-old private, independent college in Catholic Benedictine  tradition. It is nationally recognized for quality and value. It has been named the top Minnesota college for economic mobility, and U.S. News & World Report includes it on its Best National Universities and Top Performers on Social Mobility lists. The College is ranked on Money magazine's "Best Colleges for your Money" list, Princeton Review's 2020 list of Best Midwestern Colleges, and Forbes' Top Colleges list. The Center for First-Generation Student Success has named St. Scholastica one of the top 80 colleges in the country for commitment to first-generation students. Learn more at css.edu.