April 17, 2019
String, chamber groups present festive music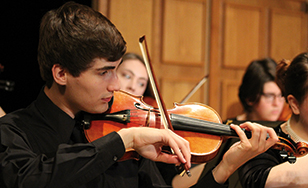 The College's String and Chamber Ensembles will present an evening of festive music at 7:30 p.m. Tuesday, April 30 in the Mitchell Auditorium on campus.
Since ancient Greece, music has been recognized as an essential component of human expression in a civilized society, especially during ceremonies and festivals. In this program, "Music for a Festival," the St. Scholastica String and Chamber Ensembles will play music worthy of festive occasions in their culminating event of the concert season.
Tickets are $5 and can be purchased at the door or in advance through the Spotlight Box Office at spotlight.css.edu or at 218-723-7000. This is the final event of this year's Spotlight series.