November 5, 2018
String, chamber ensembles present "A Little Night Music"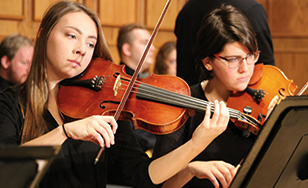 St. Scholastica's String and Chamber Ensembles will present a wide range of music, including the works of renowned composers of the 18th century, in an upcoming concert.
"A Little Night Music" will be performed at 4 p.m. Sunday, Nov. 18, in the Mitchell Auditorium. Admission is $5.
"Music has been a central part of Western culture for hundreds of years," said String Orchestra Director Michael Buck. "The two primary sources for music for many centuries were the royal courts and the church. Our music programs continue to explore these traditions and share with our community the relevance of music in contemporary society."
Beginning with the traditions of occasional music from the 18th century, the concert will present various groups of string and wind instrumental music ensembles. It will feature works by composers Wolfgang Amadeus Mozart, Luigi Boccherini, Felix Mendelssohn and others.
"Music presented at this concert demonstrates an interesting juxtaposition of old traditions against new applications of the art forms," Buck said. "The opening selection, 'Palladio' by Karl Jenkins, is a contemporary concerto grosso" – a composition for a group of solo instruments accompanied by an orchestra – "instantly recognizable as the 'theme song' for a well-known jewelry store commercial."
The rest of the 2018-19 music concert season includes:
Dec. 11 Messiah Sing-Along, Mitchell Auditorium
Dec. 14-15 O Holy Night choir concerts, Cathedral of Our Lady of the Rosary
Jan. 21, 2019 High School Honor Band Concert, Mitchell Auditorium
Feb. 5, 2019 Hands and Hammers with Dr. Jeremy Craycraft and Dr. Nicholas Susi, Mitchell Auditorium
Feb. 22, 2019 Twin Ports Choral Project: All Things New, Mitchell Auditorium
March 21, 2019 Zenith City Sings Choir Festival, Mitchell Auditorium
March 23, 2019 Bring the Sing community choral event, Mitchell Auditorium
March 30, 2019 Graced by Groove, St. Scholastica percussion ensembles, Mitchell Auditorium
April 14, 2019 Vocal Revolution: Voices Only a cappella concert, Mitchell Auditorium
April 26, 2019 For Most This Amazing Day choir concert, Mitchell Auditorium
April 28, 2019 Eastern Winds, jazz and concert band, Mitchell Auditorium
April 30, 2019 Music for a Festival, string and chamber ensembles, Mitchell Auditorium