St. Scholastica's upcoming Faculty Colloquium spotlights newly minted Master of Fine Arts and the passion behind her work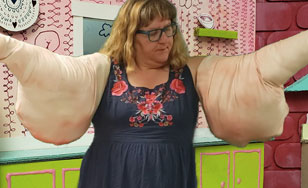 St. Scholastica's next School of Arts and Letters Colloquium will be held later this month.
Heidi Blunt, Administrative Assistant, Social Work received her MFA in Visual Arts from Vermont College this past January. Focusing on fat experience and embodiment, her 3-dimensional installation and video-production research encourages a celebratory embrace of bodies as imperfectly perfect.
She will present her artistic journey through the program and her creative adventures in the studio during the School of Arts and Letters Faculty Colloquium being held via Zoom from 3:30 to 4:50 p.m. on Friday, March 26.
The talk will be followed by a question-and-answer session. The event is free and open to the public. Visit spotlight.css.edu to register.
Now in its 14th year, St. Scholastica's School of Arts and Letters Colloquium is a monthly lecture series highlighting faculty research.
St. Scholastica is a 109-year-old private, independent college founded in the Catholic Benedictine tradition. It is nationally recognized for quality and value. It has been named the top Minnesota college for economic mobility, and U.S. News & World Report includes it on its Best National Universities and Top Performers on Social Mobility lists. The College is ranked on Money magazine's "Best Colleges for your Money" list, Princeton Review's 2020 list of Best Midwestern Colleges, and Forbes' Top Colleges list. The Center for First-Generation Student Success has named St. Scholastica one of the top 80 colleges in the country for commitment to first-generation students. Learn more at css.edu.