October 28, 2020
St. Scholastica's upcoming Faculty Colloquium explores the power of stories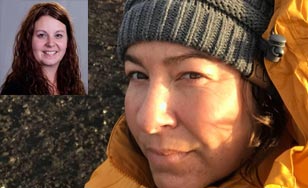 Two directors at The College will explore the power of stories for two historically marginalized communities next month.
Monica Marciniak, Director of Deaf Language and Culture, and Jennifer Niemi, Director of the Native Studies Center will present Aadizookewinini-STORY, I TELL-YOU during the School of Arts and Letters Faculty Colloquium being held via Zoom from 3:30 – 4:50 p.m. on Friday, Nov. 13.
Marciniak and Niemi will discuss why storytelling is sacred for Deaf and Native peoples, as it explains identity, beliefs and ways of life. Helping our communities make sense of the world, this living art teaches harmony and balance between the environment and human condition.
The talk will be followed by a question-and-answer session. The event is free and open to the public. Visit https://www.css.edu/about/events/spotlight/ to register.
Now in its 14th year, St. Scholastica's School of Arts and Letters Colloquium is a monthly lecture series highlighting faculty research.