November 11, 2020
St. Scholastica's commitment to first-generation college students continues through November celebrations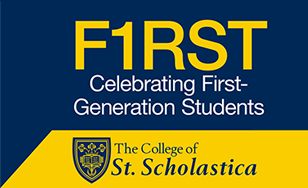 This year, The College of St. Scholastica participated in the National First- Generation College Celebration the week of November 2 – November 6 to applaud the achievements of their first-generation students.
Defined as students whose parents/guardians didn't graduate from a four-year college, first-generation students make up forty-one percent of new first-year students at St. Scholastica.
Among the College's efforts to support and advocate for these students' success include; hosting five TRIO programs that have been serving first-generation pre-college and college students since the early 1990s, developing the First-Generations Forward Fellows who are a working group of faculty, staff and students committed to first-generation student success on campus and participating in the aforementioned National First-Generation College Celebration.
In acknowledgment of their commitment to these students, the College was recognized by the Center for First-Generation Student Success in its First Forward Cohort. St. Scholastica is one of two private colleges in Minnesota, and one of four Minnesota institutions overall, to receive the designation.
The week of celebration included virtual and in-person events created to support these students, including meetings regarding college terms to know and top tips for success, and culminating in an induction ceremony for students entering the Tri-Alpha First-Generation Honor Society.
St. Scholastica inducted its first Tri-Alpha class in November of 2019. The class included 76 students, four advisors, two faculty members, and one alum. This year there are 42 student inductees and one alumna inductee.
"Each first-generation college student holds many strengths that contribute to The College of St. Scholastica community," said Dory Kempf, Director of TRIO Student Support Services. "We are proud of our students' accomplishments and the Tri-Alpha induction is just one way in which we honor these successes."
In order to be eligible for induction into Tri-Alpha, a student must be a current full-time degree candidate in a Bachelor's program, have completed at least 36 credits, have at least one full-time semester of study completed at The College of St. Scholastica, and have an overall GPA of at least 3.2.
Continuing their efforts, this year the College also honored the first ever First-Generation Alumni Award winner and Institutional Advancement is kicking off a small campaign aimed at first-generation alumni to help support those following in their footsteps' efforts and success.