February 7, 2023
St. Scholastica to host Northern TRIO Day
The College of St. Scholastica is excited to welcome over 300 high school students to its main Duluth campus on Saturday, Feb. 11 for Northern TRIO Day. The event comes a few weeks before National TRIO Day on Saturday, Feb. 25 and offers students from throughout the region the opportunity to participate in breakout sessions and tours provided by the St. Scholastica community.
National TRIO Day is an opportunity to focus the nation's "attention on the needs of disadvantaged young people and adults aspiring to improve their lives if they are to become contributing citizens of the country, and to the talent which will be wasted if that investment is not made." Celebrating National TRIO Day raises awareness about the importance of educational opportunity for low-income, first-generation students.
Be the Change
Northern TRIO Day features keynote speaker, Ms. Lynda Blackmon Lowery, as the youngest person to march from Selma to Montgomery with Dr. Martin Luther King Jr. in 1965. The event's theme is "Be the Change" and Ms. Lowery's incredible story definitely fits this theme. Students of the St. Scholastica Upward Bound (UB) and Upward Bound Math and Science (UBMS) programs first had the opportunity to hear Ms. Lowery speak in the summer of 2021 in Selma, AL.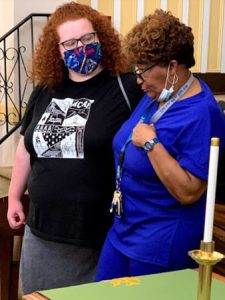 In addition, the St. Scholastica UB and UBMS programs have partnered with St. Louis County and the St. Scholastica Equity, Diversity and Inclusion Office to bring Ms. Lowery to St. Scholastica. This is a unique partnership that developed over the past several months and the College is grateful to work with St. Louis County to host this event. The College is also fortunate to have Ms. Lowery present at the St. Scholastica Diversity Dish on Friday, Feb. 10 at noon in the Mitchell Auditorium.
To find out more about Ms. Lowery's many accomplishments, watch this documentary.
About St. Scholastica's UB and UBMS programs
The College of St. Scholastica's Upward Bound (UB) and Upward Bound Math and Science (UBMS) programs have been successfully providing the motivation and skills necessary to help participants complete high school, enter a post-secondary education program and succeed in post-secondary education by earning a four-year degree. To date, 99% of UB students have graduated from high school. St. Scholastica UB students go on to attend a wide variety of post-secondary institutions.
---
Photo Credit: Ms. Lowery by the bridge taken by Robin Cooper of Penguin Random House.