St. Scholastica Theatre presents "Incorruptible: a Dark Comedy About the Dark Ages"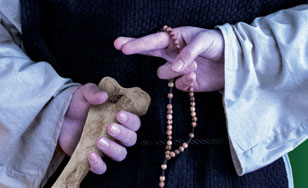 The College's theatrical production of "Incorruptible: a Dark Comedy About the Dark Ages" will be available to view online next month.
Taking place in France in 1250, the holy relics of Saint Foy reside in a humble chapel. For a penny, peasants can pray at her altar. Granted, she hasn't performed a miracle for over a decade. When a neighboring village claims to hold the true relics of Saint Foy, pilgrims flock to that chapel. Miracles abound. The rival chapels employ ruthless tactics to gain a market share in the lucrative pilgrimage route, but all they truly need is a little faith.
The show, created by Michael Hollinger and directed by Tammy Ostrander, professor of Communication, Theater and Art at St Scholastica, will be available to view from 12 a.m. Thursday, March 4 through 11:45 p.m. Sunday, March 7. Tickets are $10 for individuals or $35 for groups of up to four watching together and can be purchased by contacting the Spotlight Box Office at 218-723-7000 or by visiting spotlight@css.edu.
St. Scholastica is a 109-year-old private, independent college founded in the Catholic Benedictine tradition. It is nationally recognized for quality and value. It has been named the top Minnesota college for economic mobility, and U.S. News & World Report includes it on its Best National Universities and Top Performers on Social Mobility lists. The College is ranked on Money magazine's "Best Colleges for your Money" list, Princeton Review's 2020 list of Best Midwestern Colleges, and Forbes' Top Colleges list. The Center for First-Generation Student Success has named St. Scholastica one of the top 80 colleges in the country for commitment to first-generation students. Learn more at css.edu.