March 15, 2019
St. Scholastica Theatre presents comedy "The Fan"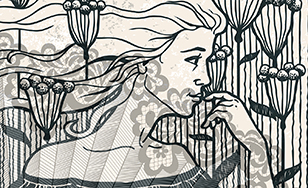 St. Scholastica Theatre will open its production of "The Fan," an adaptation of Carlo Goldoni's masterpiece of Italian street theatre, at 7:30 p.m. April 5 in St. Scholastica Theatre behind Tower Hall on campus.
Other evening performances are at 7:30 p.m. April 6, 11, 12, and 13. Sunday matinee performances will be at 2 p.m. April 7 and 14. Tickets are $15 for adults and $10 for students and seniors.
"The Fan" is filled with secret romance, elaborate plots and schemes, and mistaken intentions. When a well-to-do man about town decides to purchase a fan from the local shopkeep as a gift for his beloved, everything spirals out of control. A high-spirited tale of confused class, manic love and biting commentaries on status and integrity, "The Fan" features quick-fire comedy of the highest quality.
The production is under the direction of Dr. Tammy Ostrander, chair of the Communications, Theatre and Art Department at St. Scholastica.
To order tickets, visit spotlight.css.edu or contact the box office at spotlight@css.edu or 218-723-7000.