May 4, 2021
St. Scholastica plans virtual and in-person commencement events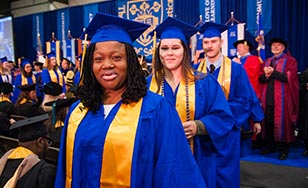 St. Scholastica will host a modified, in-person spring commencement ceremony on Saturday, May 15 at Amsoil Arena. A virtual ceremony will also be available to stream on May 15 at https://virtualgrad.marchingorder.com/css/326/i.
Graduates from the Classes of 2020 and 2021 have been invited to participate in a non-seated event in which graduates cross the stage in their cap and gown as their name is read aloud. Official graduation photos will also be taken during this celebratory event. In adherence to COVID-19 safety measures and the College's commitment to keeping its community safe, this in-person ceremony will be open to volunteers, graduates and graduate guests only. Each graduate is permitted three guest tickets.
The virtual ceremony will feature a commencement address from Chris Dolan '01, current member of the College's Board of Trustees and partner with Faegre Drinker Biddle & Reath LLP in Minneapolis, Minnesota.
In order to provide graduates with the individual and personalized recognition of their achievements that they deserve, St. Scholastica will be using MarchingOrder for the virtual ceremony and each student will be given a personalized slide to celebrate their special achievements.