St. Scholastica plans for a safe return for Fall 2021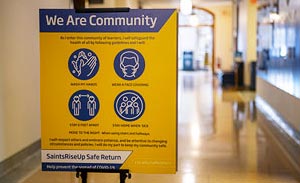 St. Scholastica is planning for a normal semester this fall as the College makes plans for an in-person return. An appointed group of faculty and staff have come together to develop best-case recommendations for a safe return to the College's campuses and sites.
The Planning Task Force is committed to ensuring the best learning environment for student success, which includes delivering courses in face-to-face formats while capitalizing on the innovative learnings over the past twelve months. Recommendations will focus on programs that are typically housed on-campuses or at sites while programs typically delivered in an online format will continue that way.
Regardless of the delivery mode, the College remains committed to serving and supporting all students, whether they be in-person, hybrid or online.
"Our students are anxious and excited about being back in community with one another. If there's one thing we have discovered, it's the power of the human experience where one can build friendships and participate fully in curricular and co-curricular activities," said Steve Lyons, Vice President of Student Affairs.
"We also want to maximize the innovative best practices we have gleaned from having to shift to alternative delivery methods and incorporate those into our plan," shared Dr. Ryan Sandefer, Vice President of Academic Affairs. "We have learned a lot about innovative teaching and learning."
In addition to the classroom environment, the Planning Task Force will provide recommendations on faculty and staff returning to work. The College's planning will also focus on resuming events safely, resuming study abroad and travel, and expanded return to play for athletic teams who will be joining the Minnesota Intercollegiate Athletic Conference (MIAC) this fall.
The College will continue to closely monitor guidelines from the Minnesota Department of Health and the Centers for Disease Control, as well as guidance from federal and state leadership. With increased accessibility to vaccinations and decreased rates of COVID-19 transmission, leaders are hopeful that the institution will be able to return to a more traditional fall semester.
"The ground is always shifting and we cannot predict the trajectory of the pandemic," said Dr. Barbara McDonald, St. Scholastica's president. "We are developing plans for several scenarios; however, it is the goal to return normally to our sites as soon as possible."
Above all else, the health and safety of the community remains the institution's number one priority.
Updates will be posted at css.edu/safereturn.
St. Scholastica is a 109-year-old private, independent college founded in the Catholic Benedictine tradition. It is nationally recognized for quality and value. It has been named the top Minnesota college for economic mobility, and U.S. News & World Report includes it on its Best National Universities and Top Performers on Social Mobility lists. The College is ranked on Money magazine's "Best Colleges for your Money" list, Princeton Review's 2020 list of Best Midwestern Colleges, and Forbes' Top Colleges list. The Center for First-Generation Student Success has named St. Scholastica one of the top 80 colleges in the country for commitment to first-generation students. Learn more at css.edu.