May 9, 2019
St. Scholastica named a top value college in Minnesota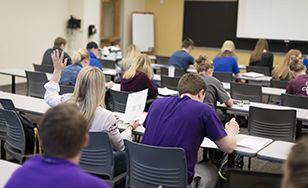 St. Scholastica ranks among the top 10 colleges in Minnesota for value, according to a new report from a personal finance website.
SmartAsset.com has placed St. Scholastica in the top 10 on its list of Best Value Colleges in Minnesota. The ranking takes into account the colleges' average scholarships, tuition, average starting salaries of graduates, student living costs, and student retention rates.
The recognition is the latest accolade that highlights St. Scholastica's commitment to quality and accessibility. Earlier this week, the College was named one of the nation's top colleges and universities for commitment to first-generation student success. St. Scholastica is the only private college in Minnesota, and one of three Minnesota institutions overall, to receive the designation.
St. Scholastica was also named the top Minnesota college for economic mobility by Opportunity Insights, a Harvard University research team. In addition, it is ranked as one of U.S. News & World Report's top regional universities, and as a "Best College for your Money" by Money magazine.
"It has always been a part of St. Scholastica's mission to serve students who come from low-income backgrounds," said Ellen Johnson, vice president for Enrollment Management. "Our graduates leave St. Scholastica with a sense of purpose and are highly sought-after by employers because they are well prepared for today's rapidly changing world."
Forty-one percent of new first-year St. Scholastica students are first generation, meaning neither parent graduated from a four-year college. Thirty-one percent of its students are Pell grant eligible, meaning they come from low-income families. The independent Catholic college has award-winning programs and staff in place to support these students.
Among Minnesota's private colleges, St. Scholastica's tuition is in the bottom quartile. One-hundred percent of new, first-time students are offered some type of financial award.
According to a survey of 2017 St. Scholastica graduates, 98 percent were employed or enrolled in graduate school within six months of graduation. Fifty percent of students reported earning at least $50,000 in their first jobs. The national average is $42,000.
St. Scholastica's student loan default rate, at 2.9 percent, is lower than the state average of 7.9 percent. The national rate is 10.8 percent.
St. Scholastica is the only college in the region that guarantees a four-year degree in four years when simple guidelines are followed. This reduces the costs that would be associated with going to school longer while increasing earnings for graduates who enter the workforce sooner.