May 9, 2019
St. Scholastica lauded for first-generation student support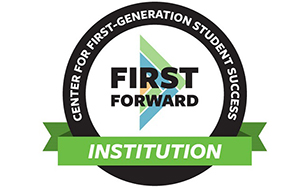 St. Scholastica has been named one of the nation's top colleges and universities for commitment to first-generation student success.
The Center for First-Generation Student Success has recognized 80 schools nationwide in its First Forward Cohort. First Forward is the nation's first recognition program acknowledging higher education institutions for their commitment to advancing first-generation student success.
St. Scholastica is the only private college in Minnesota, and one of three Minnesota institutions overall, to receive the designation.
"Being a part of the inaugural cohort of First Forward institutions is an honor," said Dory Kempf, Director of TRIO Student Support Services at the College, "and I am incredibly excited to continue our efforts to further advance initiatives and advocacy for St. Scholastica students who identify as first generation."
Forty-one percent of new first-year students at St. Scholastica identify as first generation, meaning neither parent graduated from a four-year college. Among St. Scholastica's current efforts to support and advocate for first-generation student success:
· Hosting five TRIO programs serving underrepresented students from junior high through preparation for graduate school. TRIO programs have been a part of St. Scholastica for more than 25 years.
· Participating in National First Generation Day in November, highlighting and celebrating the successes of first-generation students.
· Being a member of I'm First, a national nonprofit group providing mentoring and encouragement for college-bound students. St. Scholastica is the only Minnesota private college in the organization.
In addition, this fall St. Scholastica will launch the Alpha Alpha Alpha (Tri-Alpha) honor society, which recognizes first-generation students with a 3.2 GPA or higher and first-generation alumni and faculty.
Steve Lyons, St. Scholastica's vice president for student affairs, said being named to the First Forward Cohort is a reflection of the College's heritage and its dedicated staff.
"This honor recognizes two outstanding attributes of our learning community," he said. "One is the Catholic Benedictine values that have always guided us, which include hospitality, respect and community. The other is the consistent great work being done supporting first generation students through all of Student Affairs, and in particular the TRIO programs we host."
To learn more about the Center for First-Generation Student Success, visit: https://firstgen.naspa.org/