February 20, 2020
Spring Community Day coming up Feb. 26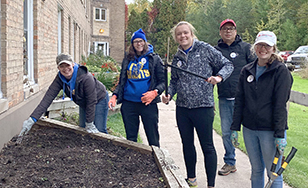 Students, staff and faculty members from The College of St. Scholastica will perform volunteer service in the Twin Ports for Spring Community Day on Wednesday, Feb. 26.
On the same day, a separate group of College students will travel to St. Paul to advocate for the Minnesota State Grant program, a crucial funding source for college students at private and public colleges and universities across the state.
St. Scholastica's twice-a-year service tradition celebrated its 20th anniversary during the Fall Community Day last October. For the Spring service day, St. Scholastica community members will volunteer at more than 30 sites. Classes are canceled to allow for greater participation.