Spotlight on wrongful convictions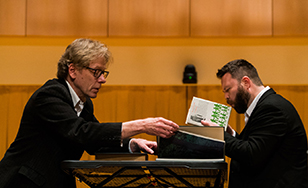 A unique show will explore wrongful imprisonment and criminal rights in America's justice system through "The Innocents," a musical performance at 7:30 p.m. Thursday, Nov. 7, in the Mitchell Auditorium.
Inspired by the Innocence Project, an organization dedicated to the exoneration of wrongly convicted people around America, percussionists John Lane and Allen Otte will lead a dramatic soundscape of 16 pieces, evoking the heartache, grief, anger, and hope surrounding wrongful convictions. In highlighting injustices, the artists hope to raise awareness about the inner workings and failings of the justice system.
Tickets are $10 and can be purchased at the door or by contacting the Spotlight Box Office at 218-723-7000 or spotlight@css.edu.
St. Scholastica is nationally recognized for quality and value. It has been named the top Minnesota college for economic mobility, and rankings by U.S. News & World Report classify it as one of the Midwest's top regional universities. It is one of SmartAsset.com's top 10 "Best Value" colleges in the state and ranks on Money magazine's "Best Colleges for your Money" list. The Center for First-Generation Student Success has named it one of the top 80 colleges in the country for commitment to first-generation students. Learn more at css.edu.