October 5, 2018
Speaker to discuss America's mission in the Middle East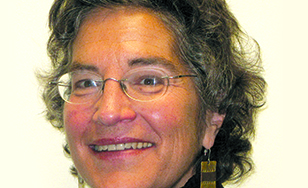 The College's free lecture series on the current state of the Middle East continues with a discussion on America's role in that region.
Phyllis Bennis, an American writer, activist, and political commentator, will speak on the topic "What is America Doing in the Mideast?" at 7:30 p.m. Tuesday, Oct. 23, in the Mitchell Auditorium on the St. Scholastica campus. The event is free and open to the public. A reception will follow.
Focusing on issues related to the Middle East and the United Nations, Bennis is a critic of Israel and the United States and a leading advocate of Palestinian rights.
She directs the New Internationalism Project at the Institute for Policy Studies in Washington D.C. and is a fellow of the Transnational Institute in Amsterdam. She has written, among other books, "Understanding the Palestinian-Israeli Conflict."
"What is America Doing in the Mideast" is part of St. Scholastica's Alworth Center for the Study of Peace and Justice series. The 2018-2019 theme, "Unraveling the Israeli-Palestinian Conflict," focuses on the current state of the Middle East and America's involvement in the region. Other events, all at the Mitchell Auditorium and all at 7:30 p.m., include:
Feb. 12, 2019, "The Idea of Israel," with Michael Brenner, professor of Jewish History and Culture at the University of Munich and Seymour and Lillian Abensohn Chair in Israel Studies at American University.
March 26, 2019, "Stand Up For Peace," Jewish-American comedian Scott Blakeman and Muslim-American comedian Dean Obeidallah come together for a performance that reflects their philosophy, "if we can laugh together, we can live together."