May 6, 2019
Songs of struggle and triumph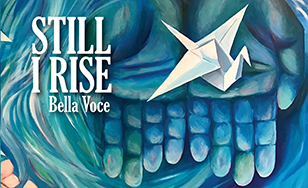 For the first time in over 40 years, there's a new album of St. Scholastica choral music.
"Still I Rise" is a selection of songs performed by Bella Voce, the College's elite women's choir. It's the first such compilation since the Abbey Minstrels released the vinyl LP "L'Amour et la guerre" in 1976.
"This is a pretty awesome introduction to our choral program," said Dr. Bret Amundson, the choir's director and the creative force behind both the album and the annual event that gives it its name.
Bella Voce is a 40-voice auditioned choir. Every year, the group joins forces with other Minnesota college women's choirs in Still I Rise, a performance with a mission of increasing awareness of sexual and domestic violence. The music performed is a testimony to women's courage, resilience and transcendence. The event benefits nonprofit organizations working on behalf of victims and survivors of sexual and domestic violence. In addition to the music, the program includes educational remarks by a representative of the organization, and most years, a survivor of sexual violence also speaks.
All told, Still I Rise has raised over $12,000 in its six years.
This year's event was in March at St. Cloud State University. Other partner schools are the College of Saint Benedict, University of Northwestern-St. Paul and the University of St. Thomas.
The event originated when Amundson went to a conference about violence against women.
"It was life-changing for me," he said. "I heard the statistics on sexual violence on college campuses and I thought of Bella Voce. The group numbers 40, so statistically, that means 10 of them will experience some sort of sexual or domestic violence during their time here. That was scary. I thought, 'How can we share stories of what is happening? How can we educate our audiences and connect to the community differently?'"
He researched appropriate choral repertoire and reached out to other schools, whose choir directors were eager to participate. Today the event usually features 200 to 250 women singing. St. Scholastica has hosted three times, Northwestern and St. Ben's once, and St. Cloud State twice.
Bella Voce now has a clear niche in the Minnesota music scene, which has raised the choir's popularity.
"We have so many people who want to collaborate with us," Amundson said, "specifically because of all the stories of empowerment, and hope and struggle, and what it means to be a woman or a person in the world."
Fortunate circumstances enabled the making of the album. Bella Voce was invited to sing at a fall 2017 conference for which it prepared a number of songs in the same theme as Still I Rise. Then, in the spring it prepared more songs for the new version of Still I Rise.
"We had a ton of music prepared," Amundson said. "I thought we should make the most of it."
The decision had to do with both pragmatism and pride.
"Part of it is for recruitment," Amundson said. "If we're going to get great students here, they have to hear what we sound like. Many of them come to campus and hear a rehearsal, but what does the end product sound like? They often don't get that.
"Also, I think it's good for our college to have this choir out there in the world. Bella (Voce) is really a great women's choir, and so an album is something we have to have! Those earlier albums by the Mod Minstrels and the Abbey Minstrels – that's a good example of what we need to go back to, a place in which we have music ensembles out in the world a lot, and then people will associate St. Scholastica with high-quality music. It's one of the easiest ways we have to market the College in a really fine way."
He's proud of the album, and the event from which it rose, seeing both as apt expressions of St. Scholastica's values.
"I think it's about community. We're talking about uplifting all people. This is about respect for all persons."
Making the album was a powerful example of the singers' love of learning.
"The intensity of these women is really something," he said. "They're coming from every corner of campus, every major. They come to rehearsal and it's just as intense as being on an athletics team. They've got to learn a ton of music! And then they've got to be spotless about it. The editing process for a choral album doesn't include auto-tune or other tricks."
"Still I Rise" can be accessed on YouTube and Spotify, downloaded from iTunes, or bought in CD format from the Saints Shop at shop.css.edu.