September 11, 2018
Setting the standard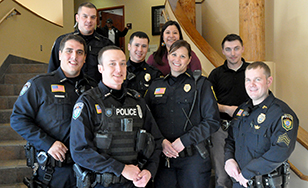 The list of honors keeps growing for Mille Lacs Band of Ojibwe Police Chief Sara Rice '16.
In January, she transitioned from a two-year stint as interim police chief to the permanent role. That same month, she was appointed to a four-year term on the Minnesota Board of Peace Officer Standards and Training (POST). Comprised of officers, educators, and citizens, the 15-member board coordinates licensing and establishes standards for all peace officers in Minnesota.
"This is something that I never imagined would be an opportunity. I am very honored to have been chosen to sit on this board," said Rice. "It's a privilege to help make decisions that have such a great impact on the law enforcement community, and the citizens of Minnesota."
She is the first tribal police chief to serve on the board. Among her responsibilities is helping to implement recent learning objectives that were adopted by the POST Board, which include training on implicit bias, crisis intervention, and conflict management.
"Law enforcement is ever-changing – because as our society changes, we need to understand the social climate and adapt," Rice said. "The POST Board not only sets the standards, but ensures that the agreed-upon learning objectives are both taught and reinforced."
Rice, an enrolled member of the Mille Lacs Band, has served as an officer since 2001. She leads a full-time police department of 23 full-time, POST-certified officers.
Despite her significant on-the-job experience, she didn't have a bachelor's degree, and she knew that finishing her degree would open up even greater opportunities. On the advice of a close friend, she looked into the Organizational Behavior accelerated degree program at St. Scholastica in 2015.
"At St. Scholastica, I acquired new leadership skills, and a deeper understanding of morals and ethics. It's one of the best decisions I ever made."
Rice credits her time studying organizational behavior as a turning point in understanding people, and the nature of community building.
"I use the psychological aspects of this degree on the job every day," Rice said. "So much of my work as police chief and on the POST Board is managing people and understanding the structure of the organization and the culture – that's exactly the kind of training I received in the program."