February 1, 2019
Scholar discusses "The Idea of Israel"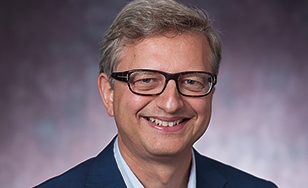 St. Scholastica will host a scholar of Jewish history and culture for a free presentation about the social and political state of Israel.
The free talk by Michael Brenner, which is part of St. Scholastica's Alworth Center for the Study of Peace and Justice series, will be at 7:30 p.m. Tuesday, Feb. 12, in Mitchell Auditorium on campus.
A professor of Jewish History and Culture at the Ludwig Maximilian University of Munich, Germany, Brenner is an expert in the study of Jewish culture, serving on multiple advisory committees. He is the Seymour and Lillian Abensohn Chair in Israel Studies at American University. He has written eight books on Jewish history, the most recent being "In Search of Israel."
Brenner's presentation is free and open to the public.
With a 2018-19 theme of "Unraveling the Israeli-Palestinian Conflict," this year's lecture series is focused on the current state of the Middle East and America's involvement in the region. The final event of the season, scheduled for March 26, will be "Stand Up For Peace," featuring Jewish-American comedian Scott Blakeman and Muslim-American comedian Dean Obeidallah as they come together for a performance that reflects their philosophy, "if we can laugh together, we can live together."