September 19, 2019
Sandahl named School of Nursing Dean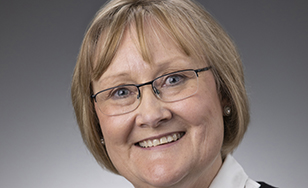 St. Scholastica has appointed longtime faculty member Dr. Sheryl Sandahl as Dean of the School of Nursing. Dr. Sandahl has served in a variety of leadership roles at St. Scholastica, both in and outside of the classroom.
"I have been privileged to spend the past 17 years of my career here at St. Scholastica, where it has been my honor to have a role in training the next generation of professional nurses," Sandahl said. "I plan to continue working hard in the critical area where administration intersects with real-world clinical experience and classroom innovation, always keeping the student in mind at the forefront of everything we do."
Sandahl had served as Interim Dean of the School of Nursing since July 2018. She joined the faculty 17 years ago as an assistant professor.
Sandahl served as Program Director and Chair of the Post-Baccalaureate Nursing Program starting in 2007. With the reorganization of the School of Nursing in 2017 she began serving as Chair of the Department of Undergraduate Nursing and was responsible for the administration of traditional, post-baccalaureate (second-degree, accelerated) and RN-to-BS nursing programs. In 2013, she was promoted to Associate Professor.
Sandahl has significant teaching experience in online, classroom, lab, and clinical environments in undergraduate and graduate nursing. Her interests include curriculum development and assessment, simulation, collaborative testing and role development in nursing. She also has significant experience in distance learning, adult education, program development and evaluation and grant writing.
Sandahl earned a BSN from St. Olaf College; a Master's in Public Health from the University of Minnesota – Twin Cities; and a Master's in Nursing and a Doctor of Nursing Practice degree (DNP) from Case Western Reserve University. A board-certified Family Nurse Practitioner, Sandahl earned a Pediatric Nurse Practitioner certificate from St. Catherine's University and a Post-Master's Family Nurse Practitioner Certificate from The College of St. Scholastica.
She serves on the Undergraduate College Learning Outcomes Assessment Committee and the Higher Learning Commission Assessment Academy Team. She has been involved with leadership development in simulation education and was selected as a participant for the 2018 National League for Nursing Simulation Leadership Institute. She is a member of the American Association of Colleges of Nursing Organizational Leadership Network Steering Committee and serves as a site evaluator for the Commission on Collegiate Nursing.
She is a member of the American Association of Nurse Practitioners, the National League for Nursing, and Sigma Theta Tau, Theta Xi Chapter.
Dr. Sandahl assumed her duties as Dean of the School of Nursing on July 1.