October 3, 2019
Renaissance music takes center stage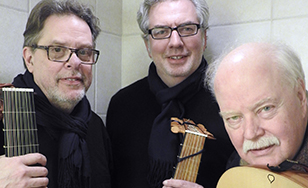 The Lute Collective and singer William Bastian will team up for an evening of classical music at 7:30 p.m. Saturday, Oct. 19, in Tower Hall Room 3625 at St. Scholastica.
With a penchant for songs not heard in centuries, The Lute Collective's Edward Martin, Phillip Rukavina and Thomas Walker combine their talents with tenor Bastian to perform musical selections from the Renaissance. The performance will feature selections by English Renaissance composer John Dowland and Flemish lutenist and composer Emanuel Adriansen.
Martin is a former adjunct music faculty member, and Bastian is a faculty emeritus member of the music department.
The Lute Collective has performed around the world. Its members have collaborated with many other musical ensembles, such as the Chambure Vihuela Quartet, which specializes in the music of Renaissance Spain.
Tickets are $10, and may be purchased through St. Scholastica's Spotlight office at 218-723-7000, spotlight@css.edu, or spotlight.css.edu.
The rest of the 2019-20 Cambiata music series includes:
Thursday, Nov. 7: "The Innocents," a dramatic soundscape about wrongful imprisonment.
Monday, Nov. 25: "Something Borrowed," featuring violinist Sophia Han and pianist Nicholas Susi
Tuesday, Dec. 10: "Messiah Sing-Along," a joyous holiday tradition directed by music department emeritus faculty member Shelley Gruskin
All presentations are at 7:30 p.m. in the Mitchell Auditorium on campus.