Recognition on 'best colleges' lists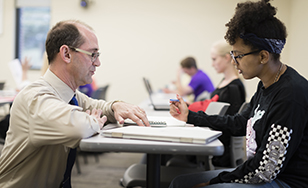 St. Scholastica's academic excellence and value have landed it on three major national college ranking lists.
St. Scholastica is one of 14 Minnesota colleges included on the Princeton Review's 2020 list of Best Midwestern Colleges. Nationally, the Princeton Review, a college admissions services company, included a total of 656 colleges that it deems academically outstanding on its best colleges listings across five geographic zones (northeast, southeast, midwest, west and international).
Overall, the United States has about 4,300 degree-granting postsecondary institutions.
Meanwhile, St. Scholastica was ranked 250 out of 744 colleges nationwide on Money's list of Best Colleges in America for 2019-20. In its analysis, Money examined three main factors: quality of education, affordability, and graduate outcomes. St. Scholastica was one of 20 Minnesota colleges on this list.
St. Scholastica also appears on top college listings from Forbes. It is ranked no. 395 out of 650 colleges nationwide to be included on the Top Colleges 2019 list. Forbes bases its college rankings on academics, student experiences, career success and debt rate.
Forbes also includes St. Scholastica at no. 264 among Private Colleges, and no. 85 for Midwest colleges.
"As we begin a new academic year, it is gratifying to learn that we have been included on these listings," said Diane Vertin, St. Scholastica's interim vice president for Academic Affairs. "This recognition recognizes our ongoing commitment to excellence in the classroom and to making quality higher education accessible to a greater number of students."
St. Scholastica is nationally recognized for quality and value. It has been named the top Minnesota college for economic mobility, and U.S. News & World Report includes it on its Best National Universities and Top Performers on Social Mobility lists. The College is ranked on Money magazine's "Best Colleges for your Money" list, Princeton Review's 2020 list of Best Midwestern Colleges, and Forbes' Top Colleges list. The Center for First-Generation Student Success has named St. Scholastica one of the top 80 colleges in the country for commitment to first-generation students. Learn more at css.edu.