October 31, 2019
Recognition for Bruce Stender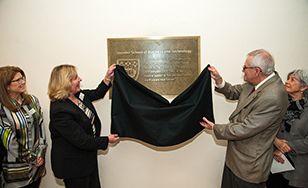 Members of the campus community and area business leaders gathered on Oct. 23 in recognition of President Emeritus Bruce Stender's impact on the region, as St. Scholastica renamed the Stender School of Business and Technology in his honor.
A program in the Mitchell Auditorium included a video with highlights of Dr. Stender's career, and featured remarks from Dr. Rick Revoir, dean of the SSBT; Dr. Barbara McDonald, president of St. Scholastica; Labovitz Enterprises President and CEO Mark Labovitz; President and CEO of the Blandin Foundation Kathleen Annette; ALLETE Inc. Chairman, President and CEO Al Hodnik; finance/accounting student Nick Anderson '21, and Bruce Stender.
Hodnik announced that ALLETE is providing a grant of $125,000 to build a state-of-the-art boardroom space for the SSBT. In addition to much-needed conference and student collaboration space, a special focus of the ALLETE Board Room will be to provide educational programming on corporate and non-profit governance.
After the program, guests attended a reception, a plaque unveiling, and tours of newly renovated, high-tech SSBT classrooms on the third floor of Tower Hall. Local, state and federal proclamations in honor of Stender were on display at the festivities. Here is a photo album of the celebration.
The College also recognizes Bruce Stender and his wife Kaye and Tom and Mimi Stender for their financial support.
Bruce Stender served as St. Scholastica's ninth president from 1974 to 1981. Along with the Board of Trustees, he carried out the first capital campaign, The Scholastica Adventure, which brought in $8.2 million. During his tenure a new general education program involving institutional competencies was inaugurated, the Reif Recreation Center was constructed, the former gymnasium was converted to a theater and the Irish Study Center was created at Louisburgh, in County Mayo.
He is the former President and Chief Executive Officer of Duluth-based Labovitz Enterprises, Inc., and served as ALLETE's Board Chairman and then as Lead Director. He also served as Trustee of the Blandin Foundation and Trust, a $400 million charitable foundation, and served as its Chair for four years. He has also volunteered in support of numerous civic organizations.
The Stender School of Business and Technology combines an academic emphasis on liberal arts with experiential learning to create global leaders with strong professional skills who act with integrity and a strong sense of social responsibility. It offers majors in accounting, computer information systems, finance, business management, marketing, and organizational leadership. It offers MBA degrees in Leadership and Change and Rural Healthcare, and Master of Science degrees in Applied Data Analytics and Project Management.